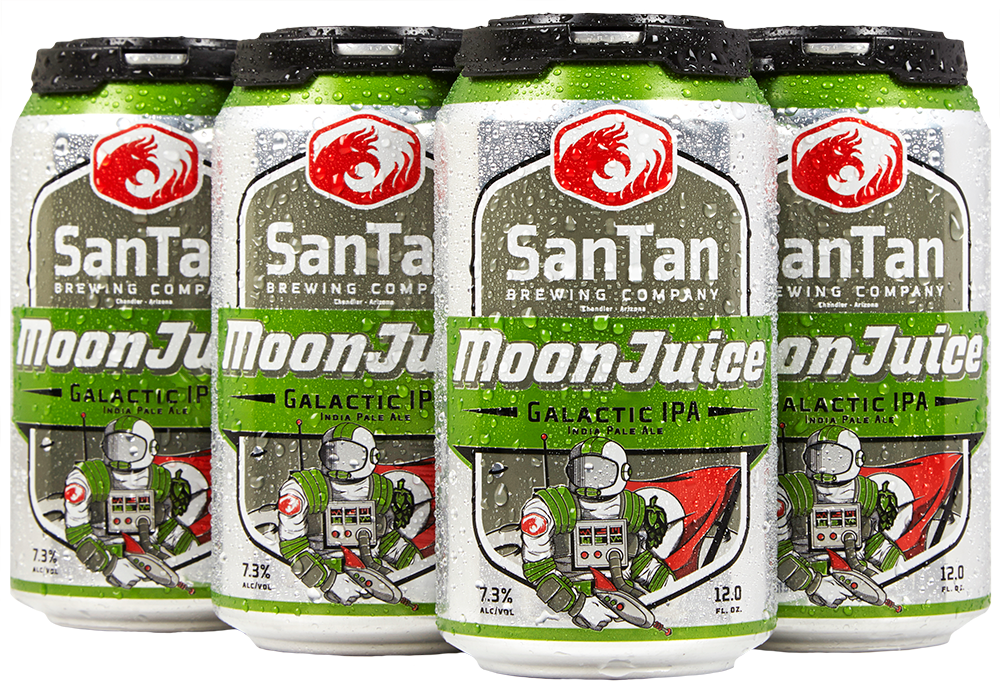 MoonJuice Galactic IPA, a Local SanTan Brewing Favorite, Now Available in Year Round, Wide Release
Houston, we've solved a problem! For the first time ever, SanTan Brewing Company will share its local favorite, MoonJuice Galactic IPA in year round, wide release.
"Our highly acclaimed IPA is now available year round! "For years our fans begged us to make more MoonJuice available. We're happy to finally say we can now share this amazing Galactic IPA with everyone," said Anthony Canecchia, founder and brewmaster, SanTan Brewing Company.
Available at craft beer establishments on tap and in cans featuring SanTan's fresh new look, MoonJuice will be available in Arizona, California, Texas and New Mexico on November 1, 2015.
An out-of-this-world IPA crafted with tons of Galaxy and Nelson-Sauvin hops that transcends all Earthly pleasures, emitting an aroma of peach, apricot and tropical fruit, MoonJuice Galactic IPA will quench even a universal sized thirst.
MoonJuice Galactic IPA Quick Facts
Style:   Galactic IPA
Malt:   2-Row, White Wheat, Munich, Vienna
Hops:  Galaxy, Nelson Sauvin
Yeast: American Ale
ABV:    7.3 %
IBU:      65
Availability: Year Round
SanTan Brewing Company continues to be one of the fastest growing craft breweries in the nation. Earlier this month, SanTan unveiled a fresh new look! After eight years of rapid growth and expansion, SanTan has launched a refreshed brand that is fun yet mature, cohesive and visually stunning, a perfect complement to its Southwestern Style Ales. While the fresh look is expected to spread across Arizona in the next couple of months, the roll out in California, Texas and New Mexico will continue through the end of 2015. To find a pint or can of SanTan's beers near you, visit SanTan Brewing Company's Beer Finder online at www.SanTanBeerFinder.com.
Contact Info
Company: HDE Agency
Contact: Jen Pruett
Email: Jen@hdeagency.com