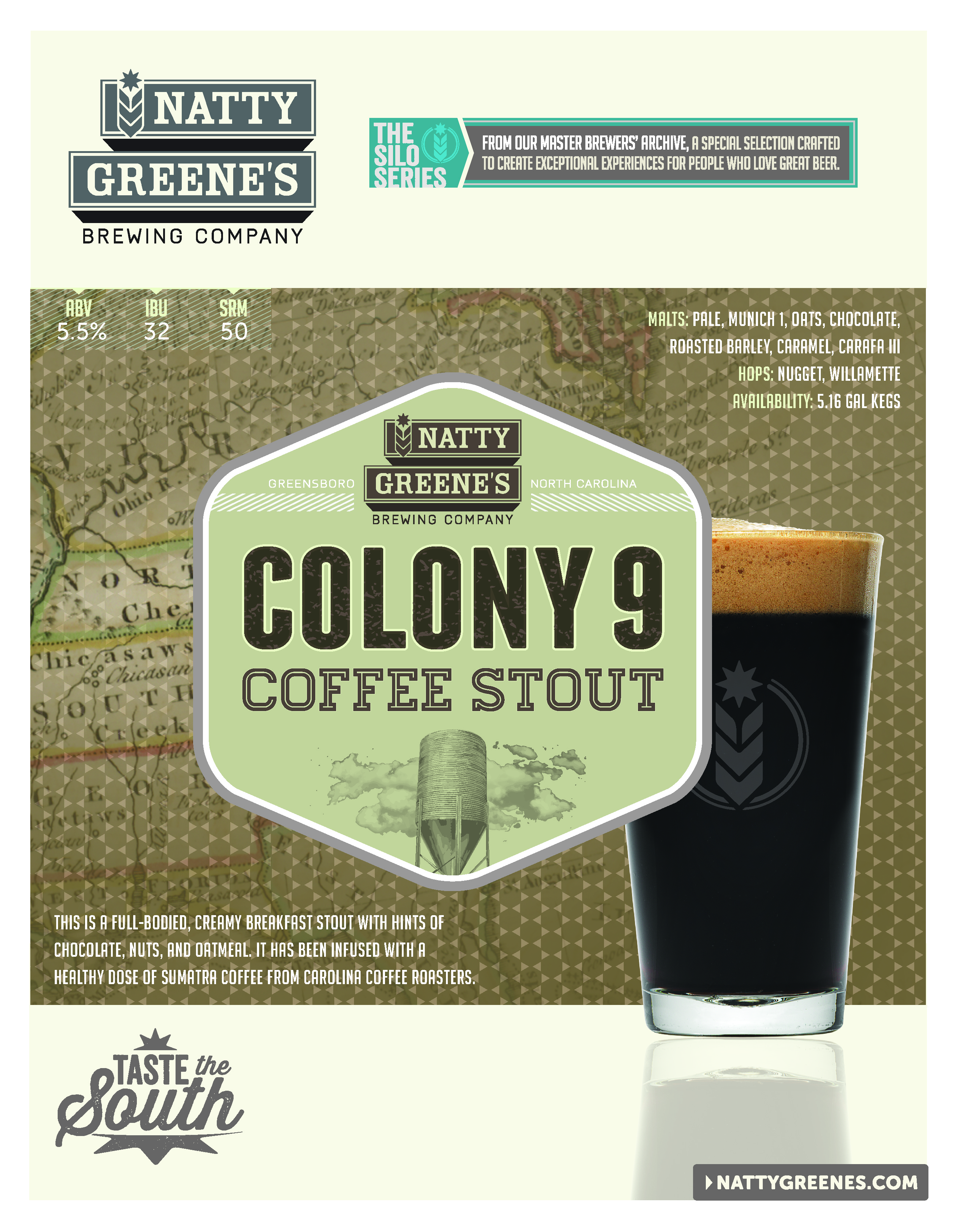 Natty Greene's Brewing Co. Releases Silo Series Colony 9 Coffee Stout
Greensboro, NC – Bring in the cold chilly months of December with Natty Greene's final Silo Series release, Colony 9 Coffee Stout. Colony 9 gets it's name from Natty Greene's home state of North Carolina, which was the ninth British colony. Colony 9 has an ABV of 5.5%, an IBU of 32 and a SRM of 50.
The final Silo Series of 2016 is brewed with chocolate, roasted barley, and caramel malts and infused with a healthy does of Sumatra coffee from Carolina Coffee Roasters. Just in time for the Holidays, Colony 9 Coffee Stout is the perfect brew for the annual family oyster roast or a cozy night by the fire with friends.
Natty Greene's Silo Series Colony 9 Coffee Stout is available on draft at Natty Greene's Brewhouse and Bunker Tasting Room, as well as at select bars and restaurants through out Virginia, North Carolina, and South Carolina.
For more information about Silo Series Smoky Mountain Porter, visit http://www.nattygreenes.com/beer/tap/49.
###
About Natty Greene's Silo Series –
The Silo Series was created to give beer fanatics the opportunity to taste different aspects of Natty Greene's beer portfolio. Before 2014, the Silo Series was not released outside of Natty Greene's brewhouse and tasting room. Now, in 2015, Natty Greene's has released the Silo Series for the second year into select bars and restaurants across North Carolina, South Carolina, and Virginia. The Silo Series ranges from India pale ales to stouts.
To have a Silo Series draft-only brew on tap at your establishment, contact Natty Greene's at general@nattygreenes.com