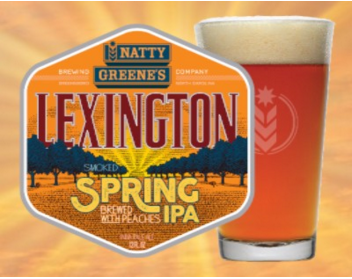 Natty Greene's Brewing Co. Releases New Spring Seasonal – Lexington Spring IPA
GREENSBORO, NC – Springtime is right around the corner at Natty Greene's Brewing Co. Along with a new year-round IPA, the brewery will also release a new seasonal, Lexington Spring IPA. Previously, a draft-only offering, Lexington will be available in six packs and on draft from mid-March to June.
Lexington Spring IPA is brewed with smoked malts and fresh peaches creating flavors reminiscent of NC Barbeque. With the addition of Amarillo and Azacca hops, Lexington is a balanced IPA perfect for an afternoon on the porch or an evening by the grill. With an initial bitter bite and smoky, fruity notes, Lexington Spring IPA will leave you craving more!
So sit back, pop the top on this Grillin' & Chillin' Approved brew, and Taste the South!
###
About Natty Greene's Brewing Co. –  
Natty Greene's Brewing Co. opened in 2004 in Greensboro, NC with a 7-barrel brewing system in the heart of downtown. In 2007, Natty Greene's opened a production brewery on W. Gate City Blvd. The brewery houses a 20-barrel brewing system and allows Natty Greene's to package product that is distributed from DC to Savannah, GA. With a passion for southern traditions, Natty Greene's brews sessionable style ales that are best enjoyed when taking the time to do and enjoy the things you love. Their flagships are Buckshot Amber Ale, Southern Pale Ale, and American Sour (the staple of Natty Greene's award-winning Sour Program). Through their brewhouse and tasting room they are also able to offer a wide arrange of limited batch releases and sour beers. #Taste the South. For more information about Natty Greene's Brewing Co, visit www.nattygreenes.com or Natty Greene's social media sites: Facebook, Twitter, Instagram, and YouTube.