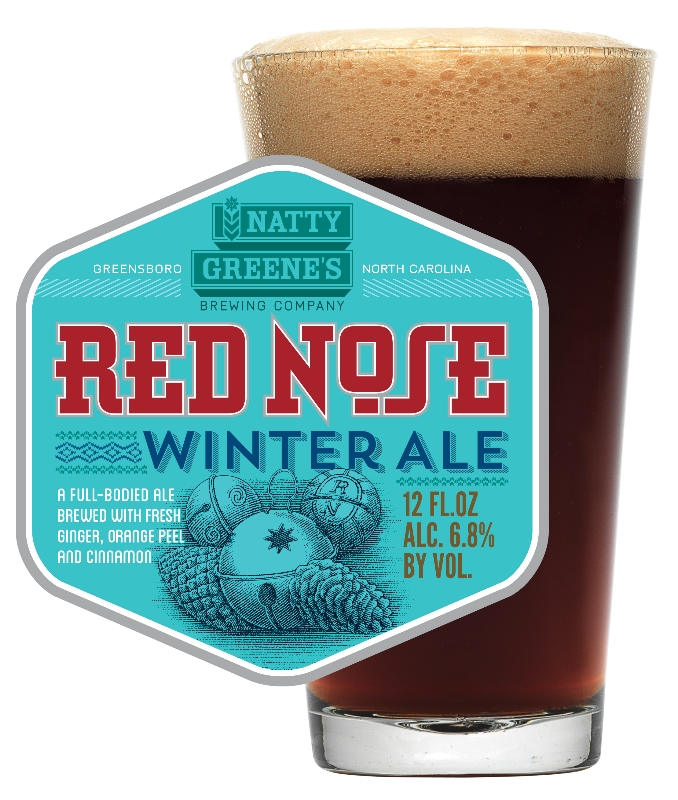 Natty Greene's Brewing Co. Releases Red Nose Winter Ale
Greensboro, NC – This November is the release of Natty Greene's Brewing Co.'s Red Nose Winter Ale. The fifth and last seasonal of their 2015 portfolio, Red Nose is one of their most anticipated beers of the year, finishing every year on the perfect malty note. With an ABV of 6.8%, an IBU of 21, and a SRM of 33, this beer is the perfect complement to your winter festivities.
"Red Nose is brewed with the holidays in mind. The base is a classic American red ale, a beer that's slightly sweeter than an Amber, made with plenty of caramel malts and just enough hops for balance," said Natty Greene's Head Brewer, Scott Christoffel. "We then bring in a spice profile that supports the aroma of the beer: fresh ginger for a nice bite, orange peel for just the right amount of tartness, and cinnamon for a clean top note."
Red Nose Winter Ale was the 2nd Best Selling 6-pack in November and December of 2014 for obvious reasons! This winter warmer is one you do not want to miss.
Red Nose will be available the first week of November. It will then grace Natty Greene's taps at their Brewhouse and Bunker Tasting Room from throughout November and December. Look out for it on draft and in bottles throughout North Carolina, South Carolina, and Virginia.
###
About Natty Greene's Brewing Co. –  
Natty Greene's Brewing Co. opened in 2004 in Greensboro, NC with a 7-barrel brewing system in the heart of downtown. In 2007, Natty Greene's opened a production facility on W Gate City Blvd. The production facility houses a 20-barrel brewing system and allows Natty Greene's to package product that is distributed from DC to Charleston. With a passion for southern traditions, Natty Greene's brews sessionable style ales that are best enjoyed when taking the time to do and enjoy the things you love. Their flagships are Buckshot Amber Ale and Southern Pale Ale. Through their brewhouse and tasting room they are also able to offer a wide arrange of limited batch releases and sour beers. Taste the South. For more information about Natty Greene's Brewing Co, visit www.nattygreenes.com