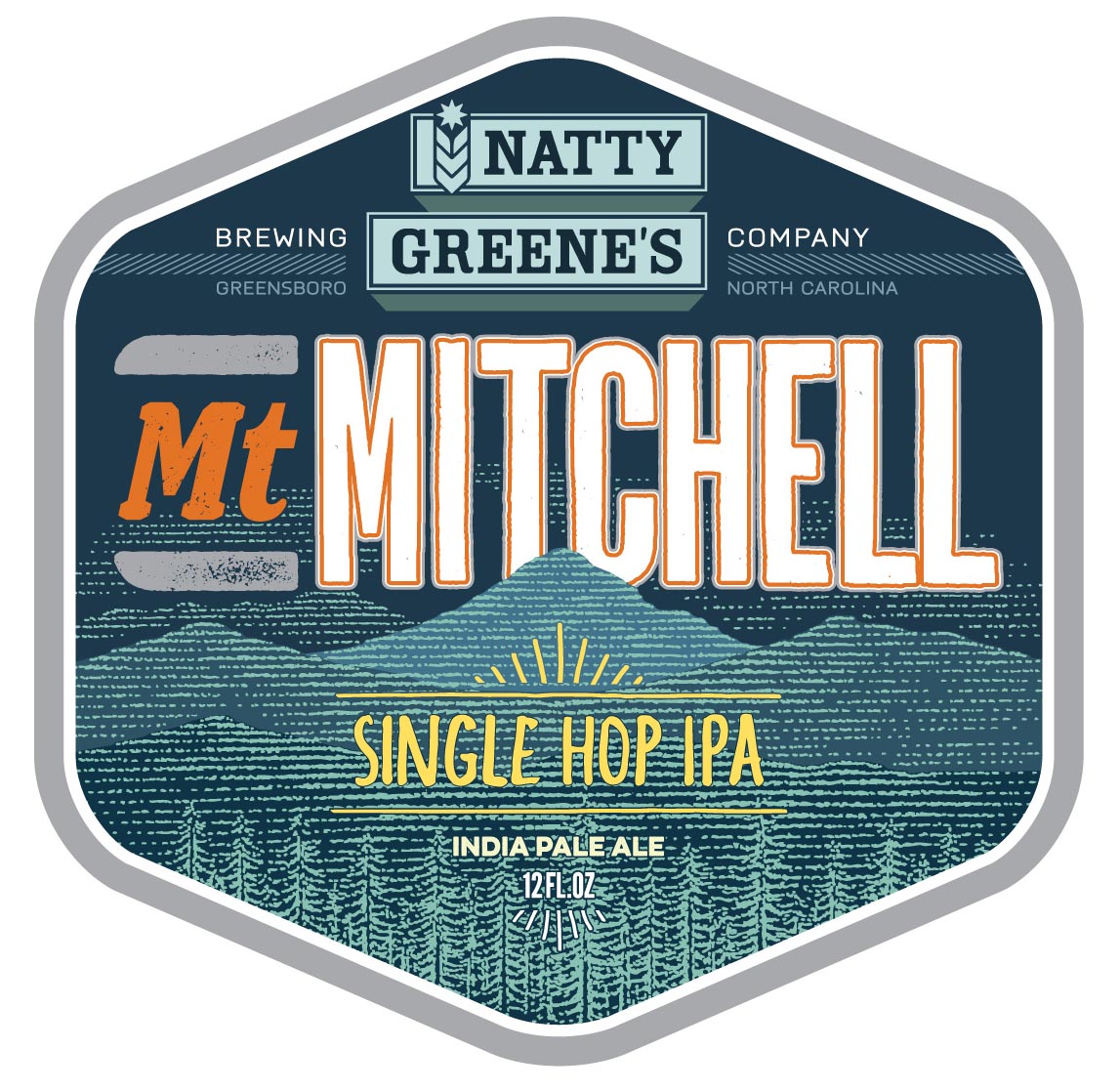 Natty Greene's Brewing Co. Releases Year-Round IPA – Mt Mitchell Single Hop IPA
GREENSBORO, NC (January 6, 2016) – Big things are happening at Natty Greene's Brewing Co. in 2016. Not only will the brewery start construction on its next production facility, it will also release three new beers into the market; two bottled and one draft only. Mt Mitchell Single Hop IPA will become Natty Greene's first ever year-round bottled India Pale Ale and will hit shelves this month.
After more than two years of research, Natty Greene's Brewmaster, Scott Christoffel, presented a single hop IPA brewed with 100% Eureka hops. Mt Mitchell was market tested as a limited release draft in Natty Greene's home market and select bars and restaurants across the state. The demand for Mt Mitchell was so high that Natty Greene's decided to bottle and distribute the IPA as part of its year-round series.
"In a market where the craft beer consumer's palate is more advance than ever, fans are constantly looking for beers that push the limits on aroma, bitterness, body, and overall flavor. Our Southern Pale Ale has done this for years now as it sits at the more hop forward end of the pale ale spectrum. Mt Mitchell, being a single hop IPA and brewed with a hop variety that many have not experienced, will bring a whole new element to our portfolio and the North Carolina IPA scene. The simplicity of the beer's ingredients is reflected in Mt Mitchell's big hop aroma, citrus bite, and smooth bitterness. Mt Mitchell is A Bitter Climb to a Citrus Adventure," described Kayne Fisher, co-founder of Natty Greene's Brewing Co.
Mt Mitchell Single Hop IPA will be available in six packs only in the Triad but craft beer fans will also be able to grab a few bottles of the IPA in Natty Greene's new Taste the South Variety 12 packs that will hit the shelves later this year. Mt Mitchell will also be available on draft at bars and restaurants across North Carolina, South Carolina, and Virginia. Stay tuned for information about Natty Greene's new seasonal IPA and Silo Series releases!
###
About Natty Greene's Brewing Co. –  
Natty Greene's Brewing Co. opened in 2004 in Greensboro, NC with a 7-barrel brewing system in the heart of downtown. In 2007, Natty Greene's opened a production facility on W Gate City Blvd. The production facility houses a 20-barrel brewing system and allows Natty Greene's to package product that is distributed from DC to Charleston. With a passion for southern traditions, Natty Greene's brews sessionable style ales that are best enjoyed when taking the time to do and enjoy the things you love. Their flagships are Buckshot Amber Ale and Southern Pale Ale. Through their brewhouse and tasting room they are also able to offer a wide arrange of limited batch releases and sour beers. Taste the South. For more information about Natty Greene's Brewing Co, visit www.nattygreenes.com or Natty Greene's social media sites: Facebook, Twitter, Instagram, and YouTube.
Contact Info
Company: Natty Greene's Brewing Co.
Contact: Natty Greene's Brewing Co.
Email: general@nattygreenes.com