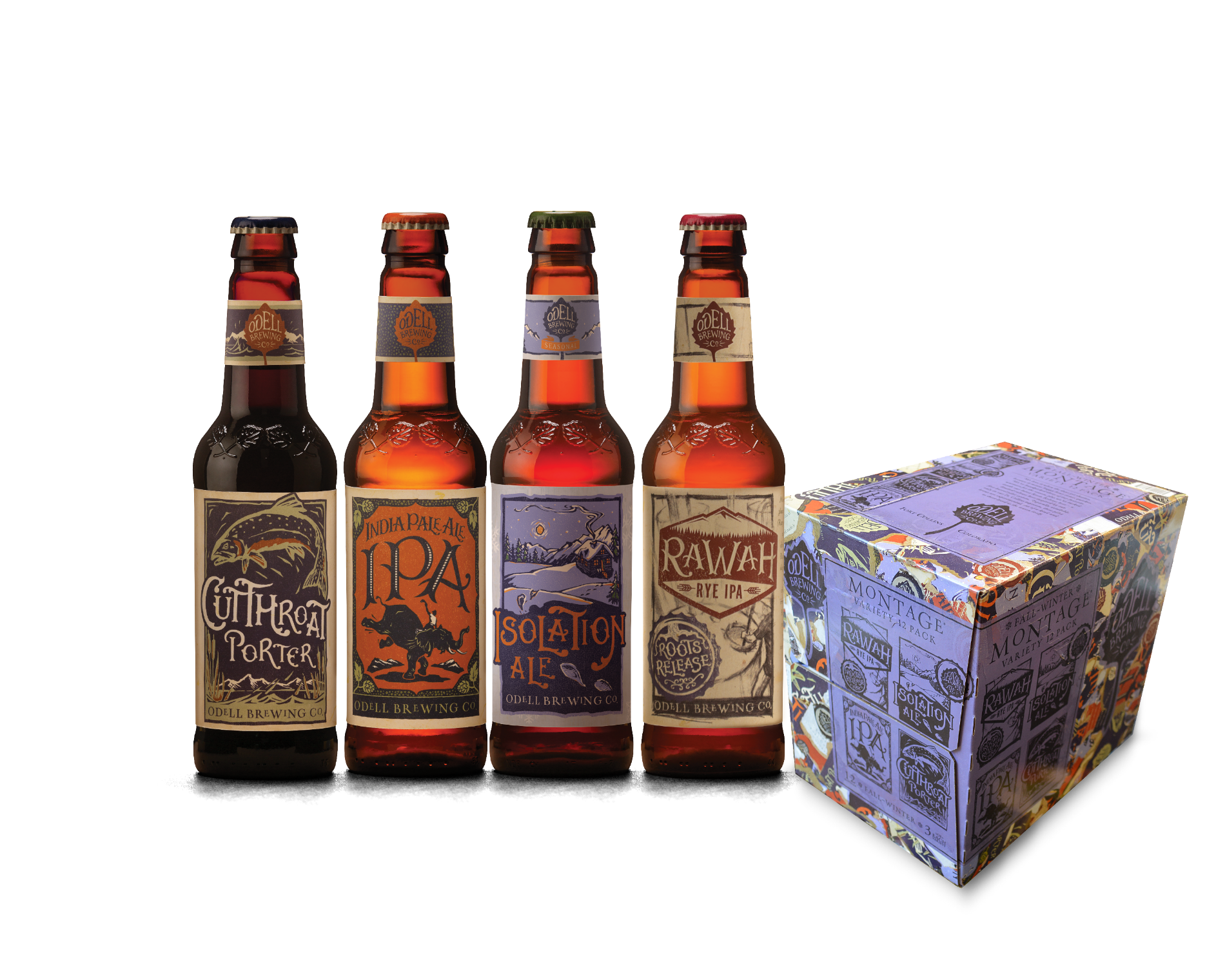 Odell Brewing Goes Wild For Fall
Brewery releases Fall-Winter Montage variety pack featuring Rawah Rye IPA Fort Collins, CO. – This September, Odell Brewing Company will celebrate the return of autumn with its Fall-Winter Montage Variety Pack. The twelve pack features year round favorites IPA and Cutthroat Porter, seasonal Isolation Ale, and the newest Roots Release brew, Rawah (ray-wah) Rye IPA.
Meaning "wild place," Rawah is named in honor of the Rawah Wilderness just northwest of the brewery. Rawah is brewed with rye which is a tougher grain to brew with because it doesn't have a hull, but it can create unique flavor and character. The brew features a subtle rye spice balanced by hints of peach, citrus zest and pepper from the selected hops.
The Fall-Winter Montage will be available within the brewery's eleven state distribution footprint through December.
About Odell Brewing – Founded in 1989, Odell Brewing was started by Doug Odell, his wife Wynne, and his sister Corkie. Today, the culture of family and collaboration still thrives fostering a brewery full of beer-centric people. It is this passion for beer that inspires Odell Brewing to create quality, hand-crafted, innovative brews. As a regional craft brewery, Odell Brewing is committed to serving the communities in which it distributes by minimizing its environmental impact, sourcing local raw materials, and through its charitable giving program known as Odell Outreach. Odell Brewing is employee owned and was named a "Best Company to Work For" in 2013 by ColoradoBiz Magazine and is an award winning brewery, nationally and internationally: 2014 World Beer Cup® – gold for Runoff, 2013 Great American Beer Festival® – gold medal for 5 Barrel Pale Ale, 2012 Brewers Association Recognition Award, 2011 Great American Beer Festival® – gold medal for Friek, 2008 World Beer Cup® – gold for IPA. 2007 Great American Beer Festival® – gold medal for IPA. # # #
Contact Info
Company: Odell Brewing Company
Contact: Amanda King
Email: amanda@odellbrewing.com