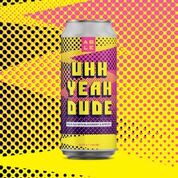 On Tap at Able Seedhouse + Brewery: Uhh Yeah Dude
Minneapolis – Able Seedhouse + Brewery is adding to its sour beer repertoire with a new creation titled: Uhh Yeah Dude. The name is a nod to the brewery founders' favorite podcast.
Uhh Yeah Dude is a kettle sour with a healthy heaping of fruit. This addition compliments the bright, clean, tart and crisp base that is a staple of Able sours.
"Uhh Yeah Dude is chock full of Blackberries and Apricots, which give the beer its deep dark purple color," says Bobby Blasey, Able Head Brewer. "It's fruit forward, sour and sweet, a definite crowd pleaser."
Uhh Yeah Dude is an American fruited sour with a 4.6% ABV and 6 IBU. Sip the sweet blackberry and apricot flavors of this new Able beer in the taproom starting Friday December 6th and on the streets in your favorite retailers and restaurants starting Monday, December 9th.
For samples, interview opportunities or additional details, please contact Kelly Plummer at
651-206-9852 or kelly@superstarpr.com.
ABLE Seedhouse + Brewery
Founded in 2015, Able Seedhouse + Brewery is a community of creative, hard-working and thoughtful people dedicated to building locally-inspired and ultra-fresh beer. Every concept, piece of art, package, design, and beer poured at Able are the result of a very curious group of people and the community supporting them. ABLE is located in the Arts District of Northeast Minneapolis at 1121 Quincy St NE. Check out our taproom, active event schedule and an evolving beer menu. ABLE is also home to Animals Barbeque Company. To learn more, go to: www.ablebeer.com
DO THINGS. FIND STUFF. BE ABLE.
Contact Info
Company: Able Seedhouse + Brewery
Contact: Kelly Plummer
Email: kelly@superstarpr.com