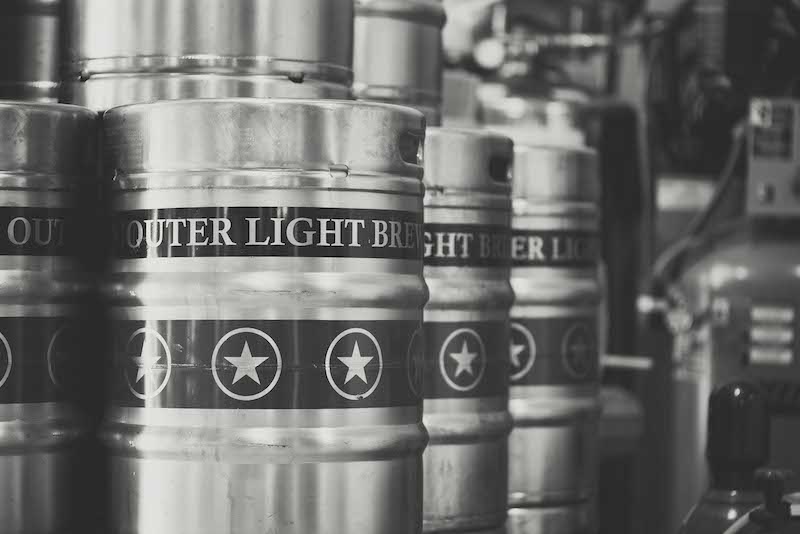 Outer Light Brewing Releases Noank Smack Oyster Stout Today
Mystic Seaport, the largest maritime museum in the world, holds many treasures. Among them are four ships designated as National Historic Landmarks. One of these vessels is the Emma C. Berry, the sole surviving American Noank smack.
A Noank smack was a fishing sloop with a unique design. It featured a large well amidships with circulating water to keep fish alive until it returned to port. These ships debuted in England in 1775 as "well smacks." By 1920, they were mostly obsolete. Remaining Noank smacks were either sunk or re-rigged, often as training vessels for young sailors.
In a nod to the rich maritime history of our region, Outer Light Brewing Company would like to present Noank Smack Oyster Stout.
We know what you're thinking: Does it taste like oysters? In general, sometimes. In our case, no. Oyster stouts do not have to taste briny. The powerful malt background often overwhelms any hint of salt. Oyster shells offer other benefits to beer. Their high levels of both calcium and alkalinity soften the beer and provide a necessary nutrient for healthy yeast.
We brewed Noank Smack with whole Noank oysters, courtesy of Oyster Club in Mystic, CT. And the oysters couldn't be fresher – they were harvested the morning of our brew. In typical Outer Light fashion, we gave our oyster stout a few qualities unique to the style. We used chocolate wheat malt and rye to give it a rich, dark chocolate punch with a hint of spice. Then we lightly dry hopped it with Sorachi Ace to mimic the lemon and herbal garnishes that often accompany oysters.
Noank Smack will be simultaneously released at the OLBC taproom, the Oyster Club and Engine Room restaurants in Mystic, CT at 5 pm.
ABV: 5.8% IBU: 15 SRM: 35 Malt: Maris Otter, Rye, Oats, Crystal, Roasted Barley, Chocolate Wheat, Midnight Wheat Hops: Perle, Sorachi Ace
Available on draft only.
###
About Outer Light Brewing Company: Founders Tom Drejer and Matt Ferrucci are inspired by life's simple pleasures: A fleeting moment in early spring as you sit on your surfboard, waiting for the perfect set to roll in.  A perfect summer afternoon, watching the powdery white clouds contrast a bright blue sky.  A crisp autumn evening shared with family and friends around a crackling campfire.  Or the quiet solitude of a powder run, lips smacking for the hearty stout that lies at the end.  Outer Light Brewing Company captures the experience of those moments in a bottle, glass or growler.
Contact Info
Company: Outer Light Brewing Company
Contact: Matt Ferrucci
Email: matt@outerlightbrewing,com