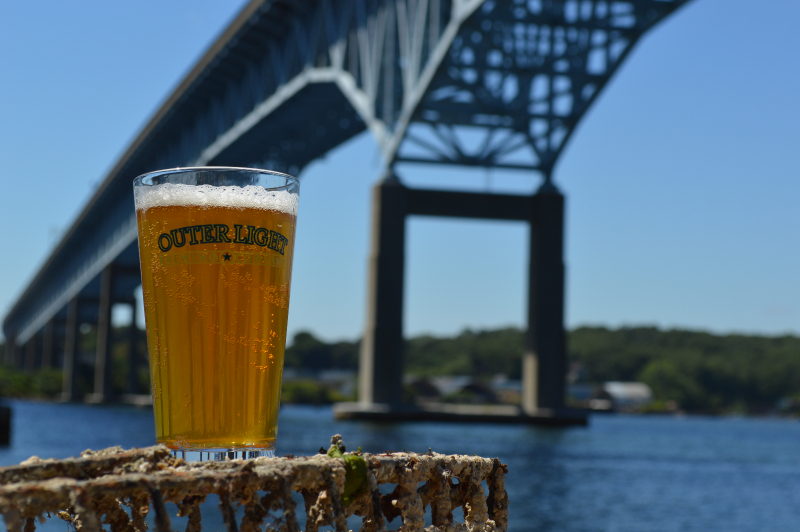 Outer Light Brewing Releases Nutmeg State Saison Today
Though officially dubbed "The Constitution State," Connecticut long has been known by another nickname, "The Nutmeg State." In the 1800s, Yankees regularly sold nutmeg seed to the South. According to legend, because either some nefarious folk blended in faux "wooden nutmeg" with the real nutmeg or because Southerners did not know how to grate the hard foreign seed properly, the South felt gypped in the transactions. Connecticut's unofficial moniker was born.
At Outer Light Brewing Company, we believe in beer as a peacemaker, a beverage providing a commonality of interests to facilitate collaboration and compromise. With that idea in mind, we brewed Nutmeg State Saison.
Nutmeg State Saison blends freshly grated nutmeg with a hint of juicy peaches, a delectable culinary pairing and a nod to fellow Americans both north and south of the Mason Dixon line. Utilizing fruity Belgian farmhouse yeast and bready English malt, Nutmeg State Saison serves up a smooth blend of warm flavors that is both complex and balanced. Lightly hopped with an experimental hop blend called Fantasia and moderate in alcohol content, we anticipate sipping this OLBC Shoreline Series brew on our porches as we welcome the spring season.
ABV: 4.7% IBU: 15 SRM: 5 Malts: Maris Otter, Vienna, Oats, Honey, Victory, Acidulated Hops: Fantasia
Available on draft only.
###
About Outer Light Brewing Company: Founders Tom Drejer and Matt Ferrucci are inspired by life's simple pleasures: A fleeting moment in early spring as you sit on your surfboard, waiting for the perfect set to roll in.  A perfect summer afternoon, watching the powdery white clouds contrast a bright blue sky.  A crisp autumn evening shared with family and friends around a crackling campfire.  Or the quiet solitude of a powder run, lips smacking for the hearty stout that lies at the end.  Outer Light Brewing Company captures the experience of those moments in a bottle, glass or growler.
Contact Info
Company: Outer Light Brewing Company
Contact: Matt Ferrucci