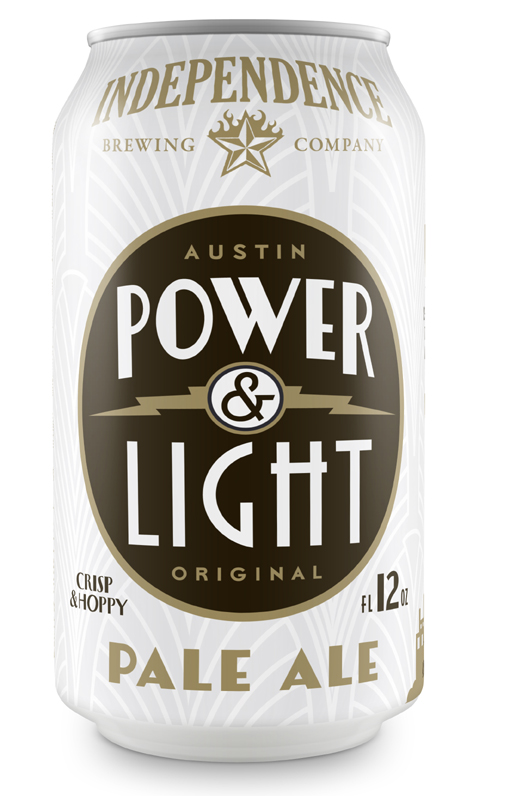 Independence Brewing Co. Launches Power & Light Pale, The Brewery's Second Can Release
Inspired by Austin's iconic Seaholm Power Plant, the design brings together the love of old Austin with a taste of new Austin
Austin, TX (July 28, 2014) – Independence Brewing Co. announced today the second in its line of can releases: an updated version of its award-winning Pale Ale, Power & Light Pale. Inspired by Austin's iconic Seaholm plant, the new design personifies the brewery's deep ties with and love for the city.
For the newest launch, it was important for Independence to objectively select the appropriate beer that would not only suit the season but remain drinkable year-round. Power & Light Pale features a new recipe, a notably more "stripped down" version of one of the brewery's oldest brews, the Independence Pale Ale, and was a natural choice to launch in the peak of summer. As temperatures continue to rise, beer lovers can enjoy the new brew in a more transportable format whether sitting by the pool or grilling in the backyard. The simplified version of the brewery's Pale Ale, which took home a 2014 Good Food Award, is a crisp and hoppy yet "sessionable" pale ale, perfect for fans of classic American pale ales as well as traditional IPAs.
"This new recipe for our Pale Ale has a slightly lower ABV than it had been in the last couple iterations, making it even more drinkable," notes head brewer Brannon Radicke. "We adjusted the malt by adding pils malt, which produces a very crisp finish. We also toned back the hoppiness a little, using Cascade hops to also give a pleasant hoppy aroma and flavor."
Taking inspiration from the unique architecture of one of the city's most notable structures, The Seaholm Plant, into consideration for the design, the cans also refer to art deco design with the bold and stylized lines Power & Light Pale stands to be a representation of "old Austin" meeting the new.
"As a longtime Austinite, I have always loved the Seaholm plant," says co-founder Amy Cartwright. "When it was functional it was one of the most important places in Austin, almost acting as the 'heart of the city'. I believe that we should always find ways to embrace history without forgetting the past and make it our own, which is why we were so inspired by this iconic building."
Available in a six-pack format, Power & Light Pale can be found on shelves at select retailers including Specs, Central Market, Whole Foods, and HEB stores in Austin, Houston, College Station and San Antonio. The brew will also be available on tap at various locations throughout Texas.
The release of Power & Light Pale marks an important milestone in Independence's evolution in the craft beer scene, the most recent being the 3,000th brew released this summer, the brewery's first ever Lager. To celebrate the can launch of Power & Light, Independence will be hosting a series of pop-ups, social media contests and giveaways throughout the summer. Follow @indybrew and #AustinPowered for updates.
Power & Light Pale Stats: Malt: Two-Row Pale, Pilsen Hops: Cascade Yeast: American Ale ABV:  5.5%
About Independence Brewing Co. Founded in 2004, in a vastly different landscape prior to the Texas craft beer boom, Independence Brewing Co. has remained on the forefront of the industry. A finalist for the Good Food Awards three years in a row, Rob and Amy Cartwright have always been passionate about producing beers that they not only personally love, but that come from the highest quality ingredients. The Cartwrights are big supporters of all things local, from community involvement with local nonprofits like Austin Pets Alive to their 1st Saturday events which promote local bands, food vendors and more. Signature brews from Independence include: Austin Amber, Stash IPA, White Rabbit White Ale, Convict Hill Stout, Bootlegger Brown,  and more.
For more information on Independence Brewing Co.'s tasting room hours, First Saturday and upcoming events, or their beer, visit www.independencebrewing.com or follow @indybrewing on Twitter and Instagram.
Contact Info
Company: Cultivate PR
Contact: Lindsey LeRoy
Email: Lindsey@cultivatepr.com