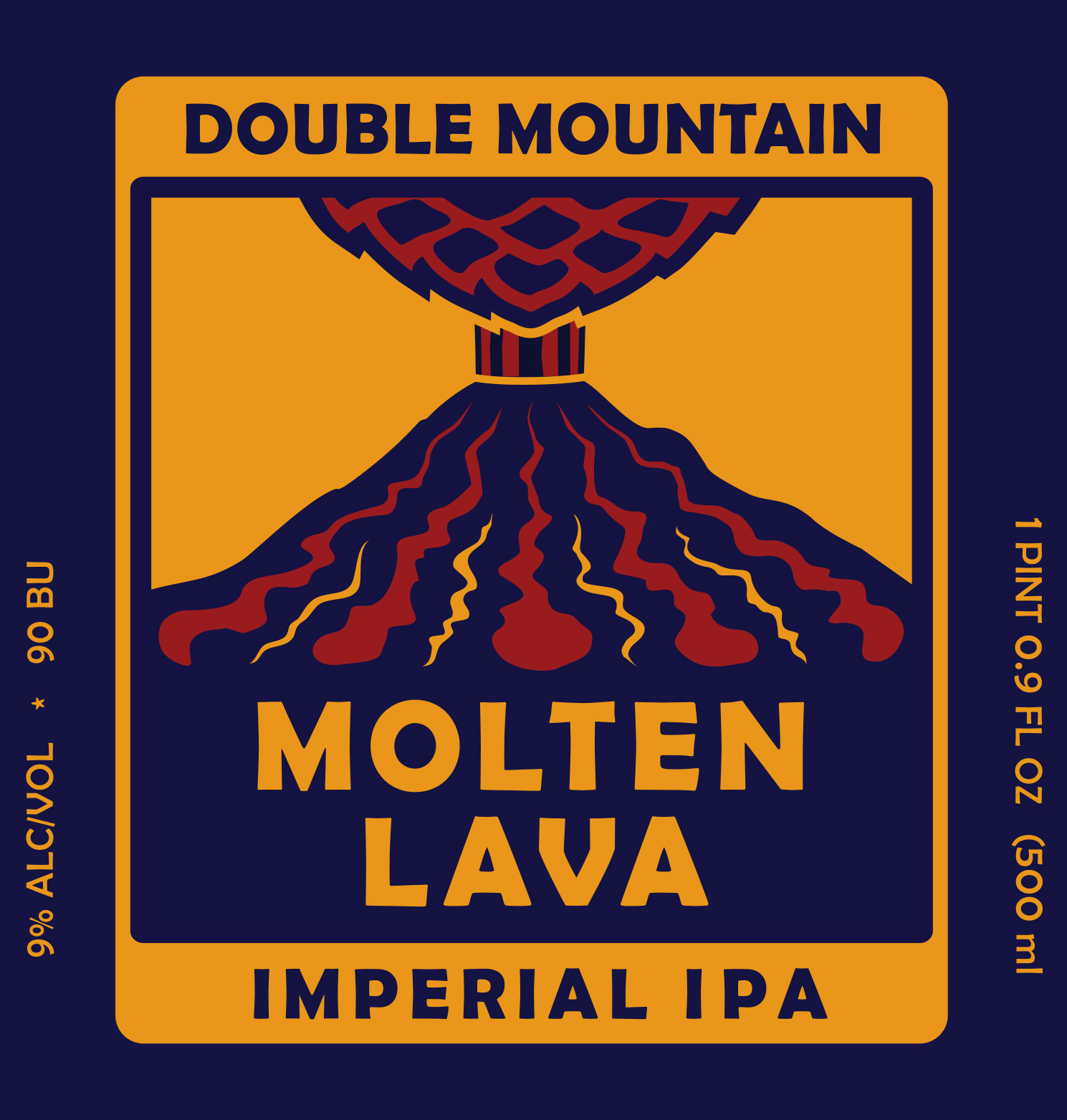 Press Release: Double Mountain Molten Lava Returns in Bottle and Draft
Double Mountain Molten Lava Imperial IPA 2014 Release
Hood River, OR- February 25, 2014- Double Mountain Brewery & Taproom is pleased to announce the release of Molten Lava Imperial IPA in reusable half-liter bottles. Available in limited quantities in Oregon, Washington, California, and the Vancouver, B.C. area, this hefty beer will be available on draft as soon as February 27th, 2014 and can be found on retailer shelves after March 1st, 2014.
Molten Lava is the most aggressive IPA Double Mountain brews, yet it manages a great balance while still achieving full hop overdrive. Dry-hopped with enormous bagfuls of whole hop flowers, which provide added aroma and flavor without harsh bitterness.9.4% ABV, 90+BU
"We used the same 2lbs per barrel dry-hopping technique that was used for the original brew we did several years ago." Head Brewer, Kyle Larsen explains. "We're amped, it's going to be awesome!"
Release events:
Wednesday, February 26th, 2014
Official Taproom Molten Lava Keg Tapping
Location: Double Mountain Brewery and Taproom, 8 Fourth Street, Hood River, OR 97031
Time: 5:00pm
Thursday, February 27th, 2014
Molten Lava Draft Release Party
Location: White Owl Social Club, 1305 SE 8th Ave, Portland, OR 97214
Time: Starts at 6:30pm
Saturday, March 1st, 2014
Molten Lava Bottle Release Party
Location:  New Seasons, 1954 SE Division St, Portland, OR 97202
Time: 3-6pm
About Double Mountain Brewery and Taproom
Double Mountain Brewery and Taproom was established in 2007 in the heart of downtown Hood River, OR. Founders Matt Swihart and Charlie Devereux opened the brewery with a clear mission: make great beer for craft beer fans. Double Mountain Brewery's unique location lends to not only using pure and clean glacial runoff water for their beers, but they also take advantage of regionally grown hops. Double Mountain Brewery and Taproom's unfiltered and long-aged beers deliver maximum flavor and character. They can be found on tap and bottles throughout the Pacific Northwest and Southern California. Learn more at www.doublemountainbrewery.com.
Contact Info
Company: Double Mountain Brewery & Taproom
Contact: Anneke Ayers
Email: anneke@doublemountainbrewery.com