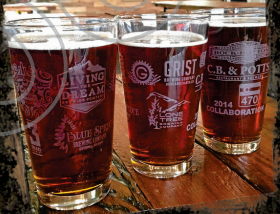 South Denver C-470 Collaboration Beer & Passport
Official Press Release for South Denver C-470 Collaboration Beer & Passport:
EIGHT SOUTH METRO BREWERIES get together to offer collaboration beer and limited edition pint glass to local patrons.
Dec 5th, 2014, eight breweries along the C-470 corridor will begin pouring the first collaboration brew; Bock C-470, a special recipe beer, designed and brewed by all eight brewers. The brewers from Blue Spruce Brewing, Three Freaks Brewery, Lone Tree Brewing Company, 38 State Brewing Company,Grist Brewing Company, Living The Dream Brewing Co., C.b. & Potts – Highlands Ranch, and Rock Bottom – South Denver Park Meadows, got together to design a recipe for their Weizenbock. This style of beer is a more powerful Dunkel Weizen with a pronounced estery alcohol character and complex malt characters of dark fruits.
"As a Colorado brewer, I think we might be the first to do a freeway collaboration. We're certainly the first that I know of in recent history. So to me, that shows we are trying to reach out, expand beyond the confines of our buildings, get involved with each other as brewers to support and mentor across company lines. And that's what being a Colorado brewer is all about," stated Rob Kevwitch Ph.D., brewer and founder of Grist Brewing. "The south suburban brewery scene has arrived, it's in full force, and we're here to stay."
In addition to this collaboration beer, the breweries are offering a "beer passport" that can be picked up on or after December 5th at any of the eight locations. The passport will be stamped as patrons visit each location and the first 300 people that have their passport stamped from all eight breweries will receive a free limited edition C-470 Collaboration pint glass. The glass is etched with all eight brewery's logos.
Contact Info
Company: Lone Tree Brewing Co.
Contact: Amber Davis-Sato
Email: amber@lonetreebrewingco.com