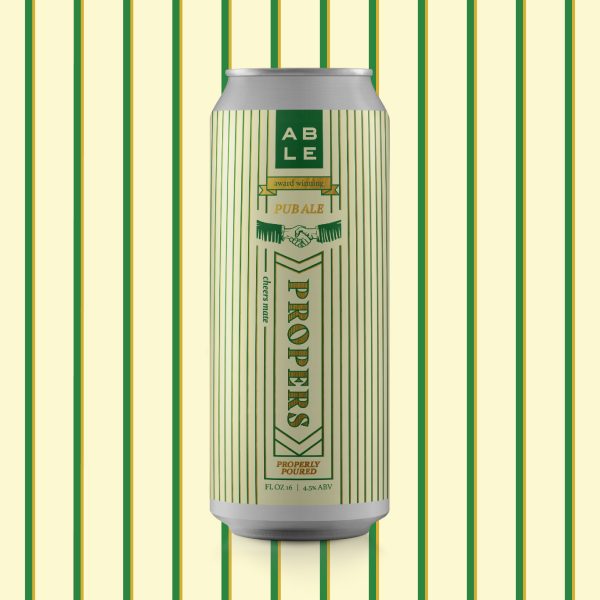 Able Seedhouse and Brewery's Award-Winning British-Inspired Pub Ale is Back
Minneapolis – Just in time for spring, Able Seedhouse + Brewery in Northeast Minneapolis is proud to bring back Propers. This award-winning pub ale has a delicious flavor profile with classic English character. Think light, frothy and served in a dimpled glass mug.
Propers made its debut in December of 2015 and went on to win a Gold from the North American Brewers Association 2017 International Beer Awards Excellence in Brewing and first place at the Minnesota Craft Brewers Guild 2019 Brewers Cup Awards.
"Propers is near and dear to my heart, as it is with a lot of people," says Head Brewer Bobby Blasey. "When we originally designed this beer, I wanted to emulate the feelings and mental picture of how we think the beer would taste in our favorite British period drama. (Picture Lord Grantham and Tom drinking at the local pub in Downton Abbey.)  To get that delicious flavor profile, I layered lots of classic British beer flavors like hearty bread, biscuit, toffee, bread crust, caramel, and honey.  Using English hops was a necessity, and the Fuggle and Challenger hops pair perfectly to the malt with their woody, minty, and fruity flavors."
Propers is an antique copper-colored pub ale with 4.5% ABV and 24 IBU. This Able favorite returns to the taproom on Wednesday, March 18th and find it in local restaurants and retailers beginning March 23.
For samples, interview opportunities or additional details, please contact Kelly Plummer at
651-206-9852 or kelly@superstarpr.com.
ABLE Seedhouse + Brewery
Founded in 2015, Able Seedhouse + Brewery is a community of creative, hard-working and thoughtful people dedicated to building locally-inspired and ultra-fresh beer. Every concept, piece of art, package, design, and beer poured at Able are the result of a very curious group of people and the community supporting them. ABLE is located in the Arts District of Northeast Minneapolis at 1121 Quincy St NE. Check out our taproom, active event schedule and an evolving beer menu. ABLE is also home to Animals Barbeque Company. To learn more, go to: www.ablebeer.com.
DO THINGS. FIND STUFF. BE ABLE.
Contact Info
Company: Able Seedhouse + Brewery
Contact: Kelly Plummer
Email: kelly@superstarpr.com