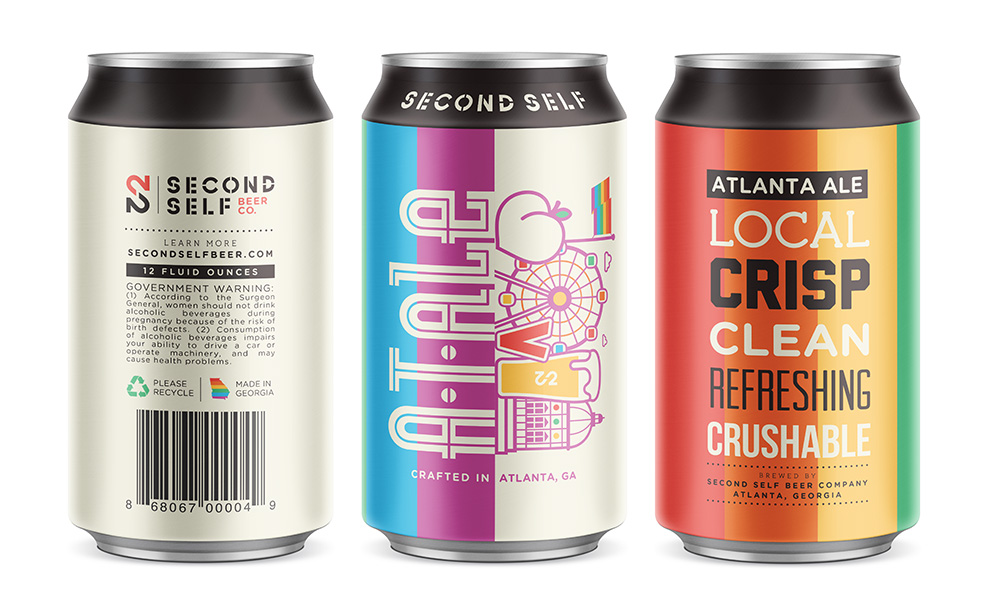 Second Self Beer Co. Releases A.T.aLe Cans to Celebrate Atlanta's 47th Annual Pride Festival
Atlanta brewery Second Self Beer Company is excited to announce a limited-edition look for its year-round brew, A.T.aLe (5.5% ABV, 42 IBU). In celebration of the 47th annual Atlanta Pride Festival (October 13-15), A.T.aLe's cans will be available for purchase in rainbow-print packaging through the month of October in metro Atlanta.
Crisp, clean, and refreshing, A.T.aLe is a tribute to Atlanta and inspired by the city and people who call it home. It's designed for when you just want to enjoy a refreshing beer – light and dry – making it the perfect companion to pair with food. Suggested pairings for the beer include smoked wings, oysters, street tacos, and tomme cheese.
(VISIT: Find a U.S. Brewery)
The new A.T.aLe cans will debut at Second Self's 3-year anniversary party on Saturday, October 7th (please click here for more details), and will be available at the taproom and in stores and shops across metro Atlanta throughout October. Second Self's taproom is located at 1317 Logan Circle NE and is open for tours on Mondays (4-8pm), Thursdays (5-8pm), Fridays (3-9pm), Saturdays (12-9pm), and Sundays (1-8pm).
ABOUT SECOND SELF BEER COMPANY Bringing a decade of brewing experience, Second Self's Co-Founders Jason Santamaria and Chris Doyle released their highly acclaimed beers to the public in fall 2014. The two met at Georgia Tech and bonded over a shared passion for good beer. Chris went on to work at Atlanta's Sweetwater Brewery and earned his certificate from the American Brewers Guild Craft Brewers Apprenticeship program. Jason has a background in food and business. Second Self's beers are brewed with fresh ingredients like blue ginger and lemongrass (never dried ingredients or extracts), and each brew is designed to be paired with food. Second Self recently opened an expanded taproom at their Westside brewery. Designed by Adrenaline, Inc., their graphics have been recognized at Tastings.com's 2015 World Beer Championships Packaging Competition and Graphic Design USA's 2015 American Graphic Design Awards. The craft brewery has been nationally recognized by Food & Wine, DRAFT Magazine, Beer Advocate, Fortune, Paste Magazine and many more.
Contact Info
Contact: Laura Fryer
Email: laura@bluehominy.com