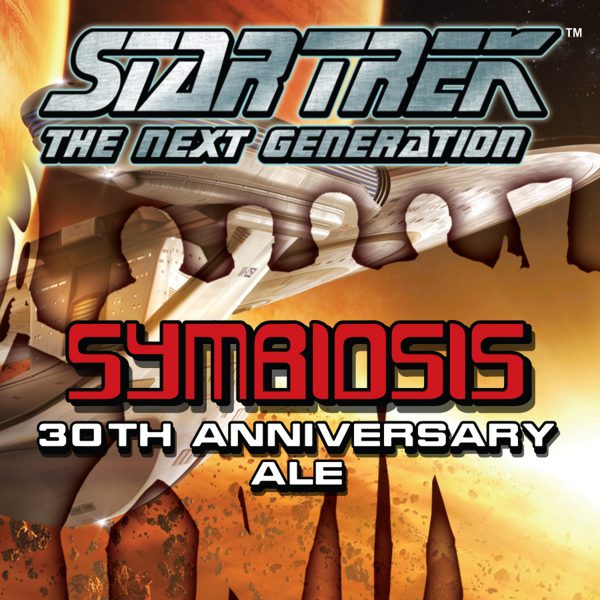 Shmaltz Unveils New Star Trek Beer at Comic-Con 2017
Get ready Trekkies: Shmaltz is unveiling a new Star Trek beer just for you.
Shmaltz Brewing Co. hits Comic-Con 2017 with a special collector's edition release Symbiosis, a beer that commemorates the 30th Anniversary of "Star Trek: The Next Generation." TNG premiered in September 1987, and Shmaltz Brewing kicks off the anniversary festivities during Comic-Con (July 20 – 23) with several tasting opportunities for its freshly brewed Star Trek Symbiosis®. CBS Studios has teamed up with Shmaltz for the only officially licensed Star Trek beers in the United States.
(READ: Craft Brewery Makes a Cameo with the Avengers)
This isn't the first time the New York based brewery has celebrated the Final Frontier. Last year, Shmaltz debuted two critically acclaimed Star Trek Golden Anniversary Ales to celebrate the 50th Anniversary of the iconic franchise, Star Trek. 2017 brings triple the excitement with the limited release of three Star Trek specialty beers rolling out throughout the year.
Under license by CBS Consumer Products, the first extraterrestrial elixir of 2017 was Star Trek Klingon Imperial Porter® (7.3% ABV).
Symbiosis Hoppy Wheat Ale
The new beer is a hoppy wheat ale that pours a pale yellow with a thick white head.
A generous amount of hops provide flavors and aromas of ripe lemon and pleasant herbs, giving Symbiosis a dry, crisp and clean mouthfeel.
Symbiosis is a limited-edition, smooth, easy-drinking ale with prominent wheat maltiness and distinct flavors and aromas of Warrior, Centennial, and Amarillo hops, making it the perfect refreshment for enjoying a Star Trek marathon with fellow Trekkies or at your next summer bottle share.
(LEARN: 75+ Popular Beer Styles)
Lifting off this week, you don't have to be at Comic-Con to find it. Star Trek Symbiosis transports itself in 4-packs to retail outlets in 35 states. You'll also see it on draft.
Star Trek Beer Named after "Symbiosis" Episode
For over 10,000 years, a symbiotic relationship has thrived between yeast and sugar, malts and hops, beer and beer lovers.
Shmaltz's latest Star Trek release celebrates this benevolent co-existence and pays homage to the 30th Anniversary of Star Trek: Next Generation, and the episode, "Symbiosis." In this episode, two different races from the same galaxy have seemingly found a way to peacefully coexist and work together for the betterment of all.
(READ: Is Cotton Candy Beer This Summer's Oreo Beer?)
However, we eventually learn that their relationship is based on the false promise of felicium, which is sold by the Brekkians to the Ornarans. This forces Captain Picard to make an excruciating choice: uphold the Prime Directive, or save an entire civilization from exploitation.
In this 30th Anniversary Ale, the Shmaltz crew has upheld its prime directive to boldly unite hops, malts, yeast, and water in the pursuit of craft beer excellence. Share a bottle of this limited edition commemorative ale with your own federation. Make It So!
Contact Info
Company: Shmaltz Brewing Company
Contact: Kate Pattenaude
Email: kate@shmaltzbrewing.com