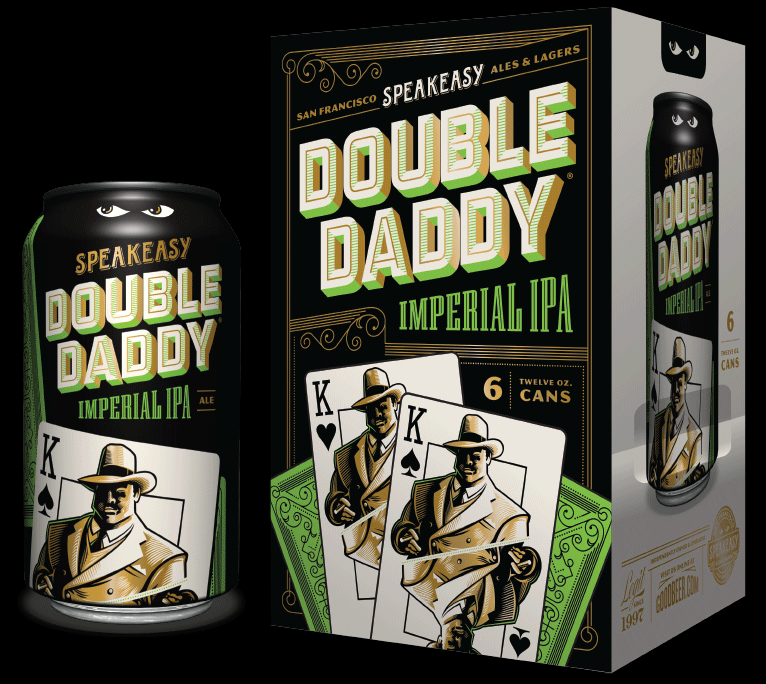 Speakeasy Ales & Lagers to Release Cans of Double Daddy Imperial IPA with New Recipe
Speakeasy Ales & Lagers will raise the stakes this spring by releasing cans of Double Daddy Imperial IPA, with a hoppy makeover. Brewed since 2003, Double Daddy has only been available on draft or in 22 oz. bottles. This April Speakeasy will start shipping six packs of 12 oz. cans to all its distribution territories. The beer's hop profile has also been reformulated, giving it new complexity and punch. All just in time for summer at the beach or camping excursions.
Speakeasy's first foray into cans started with the Session Series in 2015. According to Speakeasy founder and president, Forest Gray, "At the time we decided not to put anything in a can that would be redundant in 12 oz. glass. So we created new beers optimized for cans, meaning low in alcohol for day drinking outdoors. After evaluating our objectives and sales data, the logical step was to start transitioning all our beers into 12 oz. cans, excluding those that are designed for aging. Double Daddy was at the top of the list."
In addition to the new package, Speakeasy decided it was time to reconsider Double Daddy's recipe. "There are a lot of hop flavors and aromas that weren't around 20 years ago. We want the beer to evolve, and at the same time, not disappoint people who are familiar with Double Daddy's legacy," said Forest Gray. After careful consideration, Speakeasy's director of brewing, Kushal Hall, decided to substitute Nelson for Chinook hops in the whirlpool addition, and add Mosaic hops in place of Citra during dry hopping.
The changes will be noticeable. Kushal Hall said, "Double Daddy is moving away from being all about hops that are citrus and pine focused. Nelson adds more complexity and diesel fuel components that are found in Southern Hemisphere hop varieties. Mosaic will give it more tropical and stone fruit character. Double Daddy will also showcase the enhanced hop character in our beers, achieved by using our new centrifuge, which retains a higher quantity of hop oils."
Double Daddy Imperial IPA pours a fiery orange with a creamy white head. Dry-hopped with Amarillo, Nelson, Simcoe, and Mosaic, the aroma is lush and pungent, with notes of grapefruit, apricot, mango, tangerine, pine, and a hint of diesel fumes. Fresh pale malts deliver a touch of biscuit, orange marmalade, and push the beer to 8.5% alcohol by volume. Balancing the bold bitter hops that yield 85 IBUs.
Cans of Double Daddy Imperial IPA will be shipped to Speakeasy's distributors in April. The beer will be available in California first, then head east to Las Vegas, New York, and Boston. The full distribution footprint is listed below. Speakeasy also plans on hosting a can release party at their Tap Room. The details will be finalized in soon.
QUICK FACTS
Name: Double Daddy Imperial IPA URL: http://www.goodbeer.com/the-usual-suspects/ ABV: 8.5% Style: Imperial IPA Malt: Two Row Pale, Light Munich, Crisp Dextrin Hops: Apollo, Nelson, Amarillo, Simcoe, Mosaic Availability: Year-round Formats: Draft, 12 oz. cans, and 22 oz. bottles Distribution: AZ, CA, DE, PA, MA, NH, NY, NJ, NV, OR, RI, VA, WA
Contact Info
Company: Speakeasy Ales & Lagers
Contact: Brian Stechschulte
Email: brian@goodbeer.com