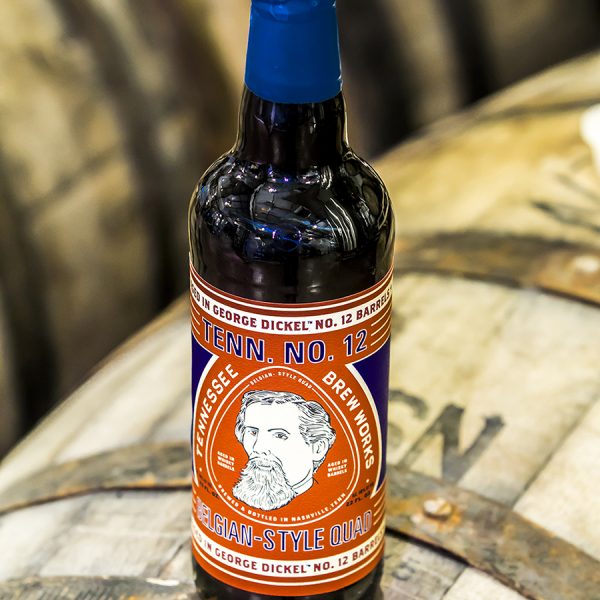 Tennessee Brew Works Launches George Dickel Barrel Aged Belgian-Style Quad and Imperial Porter
NASHVILLE, TENN. – When the teams from Tennessee Brew Works and George Dickel first sat down for drinks in 2016, they expected to share good conversation, craft beers and handmade Tennessee whisky. A year later, the Tennessee neighbors have become fast friends and partners in a new brew collaboration series set to launch next week including a Belgian Style Quadruple and Imperial Porter, both aged in George Dickel No. 12 Tennessee Whisky barrels.
The George Dickel Barrel Aged Belgian Style Quad and Imperial Porter will first be available in 22 oz. bottles for purchase at 12 p.m. CST on Saturday, May 13 in the Tennessee Brew Works Taproom. There is a limit of two bottles per customer (per style). Thereafter, they will also have very limited availability in Nashville at fine retail establishments (22 oz. and draft), including the Tennessee Brew Works kiosk at the Nashville International Airport (draft only).
"Our mission goal is to create craft beer that represents our land, heritage and culture," said Christian Spears, Founder & President of Tennessee Brew Works. "We are honored to partner with an iconic Tennessee brand like George Dickel to produce a beer that pays homage to the great state we both call home."
The Tennessee Brew Works team specifically selected the two beers they believed best complemented the flavor profiles of whisky barrels that once housed George Dickel No. 12. Similar to George Dickel's chill charcoal mellowing process, Tennessee Brew Works prefers aging their beer during the winter months. Therefore, the Belgian Style Quad and Imperial Porter were barreled last fall for six months.
About Tennessee Brew Works
Tennessee Brew Works was born from a love for craft beer. A startup which began over a home-brew session, they ultimately celebrated their first professional brew in August 2013. Tennessee Brew Works is 100% owned and operated by folks in Tennessee. They are guided by their motto: "We work hard to create high quality craft beer that makes Tennessee proud. Our culture places importance on family, friends, and community, and we hope you'll be a part of it."
About George Dickel Tennessee Whisky
Since George A. Dickel bottled his first batch of whisky in 1870 using the pure water from Cascade Springs, adult consumers have been drawn to this Tennessee whisky. Handmade the Hard WayTM, all whiskies produced at the Cascade Hollow distillery in Tullahoma, Tenn. are hand crafted with an actual human being present at every step of the process. This personal touch continues to be the backbone of the brand and every bit as important as the rye, corn and barley that make up its Tennessee whiskies. For more information, please visit www.GeorgeDickel.com and always remember to drink responsibly.
Contact Info
Company: Tennessee Brew Works
Contact: Christian Spears
Email: info@tnbrew.com