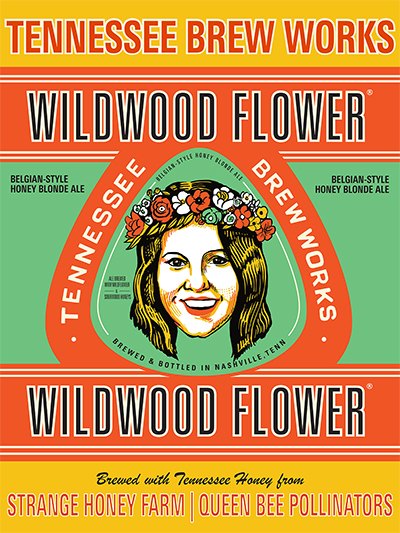 Tennessee Brew Works Announces Spring Seasonal Belgian-style Honey Blonde
(Nashville, TN) – Tennessee Brew Works will release its spring seasonal Belgian-style Honey Blonde Wildwood Flower Ale on February 16 at their Nashville Taproom, 809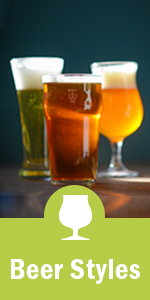 Ewing Ave, and throughout Tennessee thereafter. Spring Release Features the Face of Tennessee Brew Work's Danielle Daniel.
The seasonal ale has an alcohol by volume (ABV) of 6.8 percent and International Bitterness Unit (IBU) of 22.
"This year's Wildwood Flower Blonde Ale is a sophisticated blonde ale derived from a classic Belgian Abbey yeast; accentuated by a floral, aromatic hop profile and commingled with a blend of the locally sourced Wildflower and Sourwood honeys from Del Rio, Tennessee's Strange Honey Farm," says Christian Spears, founder and president, Tennessee Brew Works.
According to Head Brewer Matt Simpson, "The Wildwood Flower Ale pairs well with roasted poultry and soft cheeses such as brie. You will really enjoy the floral and honey flavors."
Many of the Tennessee Brew Works beer labels feature the faces of real people from the brewery.
Wildwood Flower Ale showcases one of Tennessee Brew Work's original employees, Director of Sales, Danielle Daniel. A native Tennessean, Danielle was born in Cottontown and raised in Hendersonville. Danielle worked at renowned Nashville beer spots such as the Flying Saucer and Frugal MacDoogal, where she discovered her love for craft beer and became determined to work in the industry. In 2013, she met Tennessee Brew Works founder, Christian Spears, at the Flying Saucer while the brewery was still being built. Danielle's driving influences of wanting to work within a local community, explore Nashville's ever-expanding scenes, and produce distinct and delicious beer led her to Tennessee Brew Works. Her business savvy and dedication to the industry quickly set her apart, and Danielle became one of the first members of the Tennessee Brew Works family.
Wildwood Flower Blonde Ale will be available at the Tennessee Brew Works Taproom, their Nashville International Airport kiosk (at the terminals A/B food court), and limited restaurants, bars, and grocery stores throughout Tennessee, Northern Alabama and Kentucky.
About Tennessee Brew Works Tennessee Brew Works was born from a love for craft beer. A start-up which began over a home-brew session, they ultimately celebrated their first professional brew in August 2013. Tennessee Brew Works is 100% owned and operated by folks in Tennessee. Their motto: "We work hard to create high quality craft beer that makes Tennessee proud. Our culture places importance on family, friends, and community, and we hope you'll be a part of it."
Contact Info
Company: Tennessee Brew Works
Contact: Christian Spears
Email: info@tnbrew.com