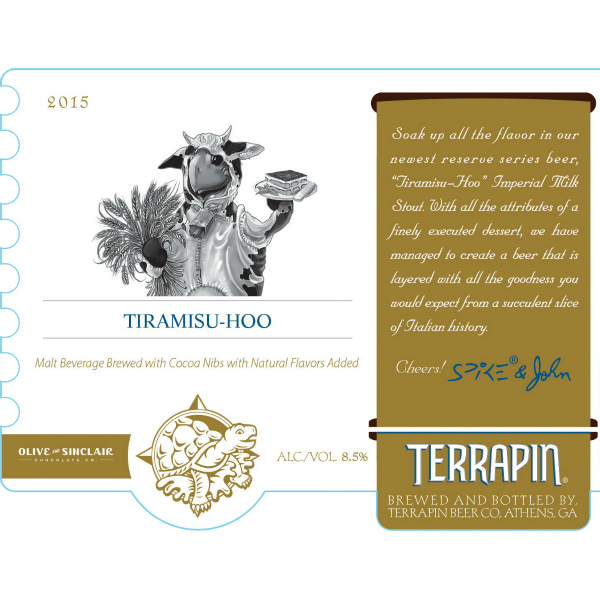 Terrapin Beer Co. Gives Out Just Desserts with New Reserve Series Release
Tiramisu-Hoo Imperial Chocolate Milk Stout starts shipping soon
As the leaves fall, so too does a new Reserve Series beer from Terrapin Beer Co. Moo-Hoo gets its third Reserve treatment with a fine Italian dessert as inspiration. Tiramisu-Hoo Imperial Milk Stout will combine the chocolaty smoothness of Moo-Hoo with the coffee and delicate biscuit flavors of traditional tiramisu.
To create this decadent brew, Terrapin teamed with both Nashville, TN chocolate maker Olive & Sinclair and Athens' own Jittery Joe's Coffee. The brewery has a long relationship with both artisan companies and is excited to be able to bring them both together for this project.
From the label: Soak up all the flavor in our newest Reserve Series beer, Tiramisu-Hoo Imperial Milk Stout. With all the attributes of a finely executed dessert, we have managed to create a beer that is layered with all the goodness you would expect from a succulent slice of Italian history.
Malts: 2-Row, Flaked Oats, Crystal 85, Chocolate Malt, Dehusked Carafa III, Roasted Barley Hops: Nugget Other: Lactose, Cocoa Nibs, Coffee, Vanilla
ABV: 8.5% IBU: 30 OG: 20.7
Tiramisu-Hoo will be packaged in 22 oz. wax-dipped bottles and 1/6 BBL kegs, and available in limited quantities throughout Terrapin's distribution footprint. Look for it on shelves in November!
Contact Info
Company: Terrapin Beer Co.
Contact: Erin Appel
Email: erin@terrapinbeer.com