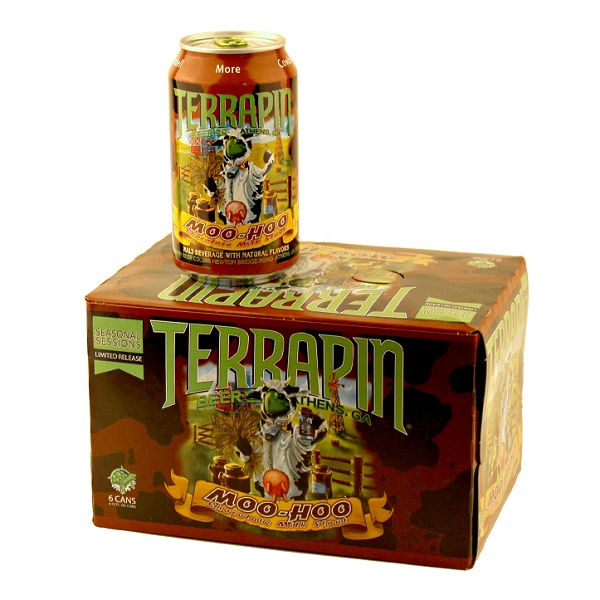 Terrapin Beer Co. Welcomes Stout Season with Moo-Hoo
Terrapin Beer Co. signals the start of Stout Season with the release of the brewery's much-loved Moo-Hoo Chocolate Milk Stout.
This sweet stout boasts rich chocolate flavor, hints of vanilla, and a rich velvety mouthfeel, all in a full-bodied but never heavy brew. These characteristics make Moo-Hoo an excellent beer to pair with foods from fall comfort dishes to seasonal vegetables to decadent desserts. And with Moo-Hoo now in cans, you'll be able to take it anywhere!
Moo-Hoo also provides Terrapin with an opportunity to work with another regional craft company, Nashville-based Olive & Sinclair Chocolate Co. Since Moo-Hoo's inception, Terrapin has sourced the cocoa nibs and shells used in this brew and many others from Olive & Sinclair.
From the label: The Terrapin Moo-Hoo Chocolate Milk Stout proudly uses cocoa nibs and shells from Olive & Sinclair Chocolate Co. to give this beer its chocolaty great taste! Enjoy it… 'til the cows come home.
ABV: 6% IBU: 30 OG: 16.1
Malts: 2-Row Pale, Flaked Oat, Crystal 85, Chocolate Malt, DH Carafa III, Roasted Barley Hops: Nugget, Willamette Other: Cocoa Nibs, Cocoa Shells, Lactose
Moo-Hoo Chocolate Milk Stout will ship throughout Terrapin's distribution network and will be available in 6-packs of 12 oz. cans and 1/6 BBL kegs.
Contact Info
Company: Terrapin Beer Co.
Contact: Erin Appel
Email: erin@terrapinbeer.com