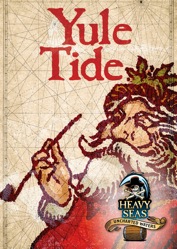 The Return of Yule Tide: New 2015 Edition
BALTIMORE, MD — The "Uncharted Waters" Series by Heavy Seas Beer will soon welcome a new edition of Yule Tide. This limited release will be available from November – December in all 18 states where Heavy Seas beer is distributed.
Aged in Jamaican rum barrels, this year's Gingerbread Weizen Doppelbock offers spicy clove-like notes from German weizen yeast. The hops blend harmoniously with heavy doses of Caramel and Aromatic malts. Actual gingerbread was used during the brewing process to give this special offering a subtle holiday-infused taste. A warming finish from the rum barrel aging contributes to a fully satisfying tipple. Yule Tide is sure to make you comfortable on a cold winter's evening.
Style: Gingerbread Weizen Doppelbock aged in rum barrels
ABV: 9%
IBU: 28
Availability: November – December
Malts: 2 row, Wheat, Munich, CaraWheat, Dark Crystal, Chocolate
Hops: Styrian Aurora, Tettnang
Contact Info
Company: Heavy Seas Beer
Contact: Christine Shaffer
Email: shaffer@hsbeer.com