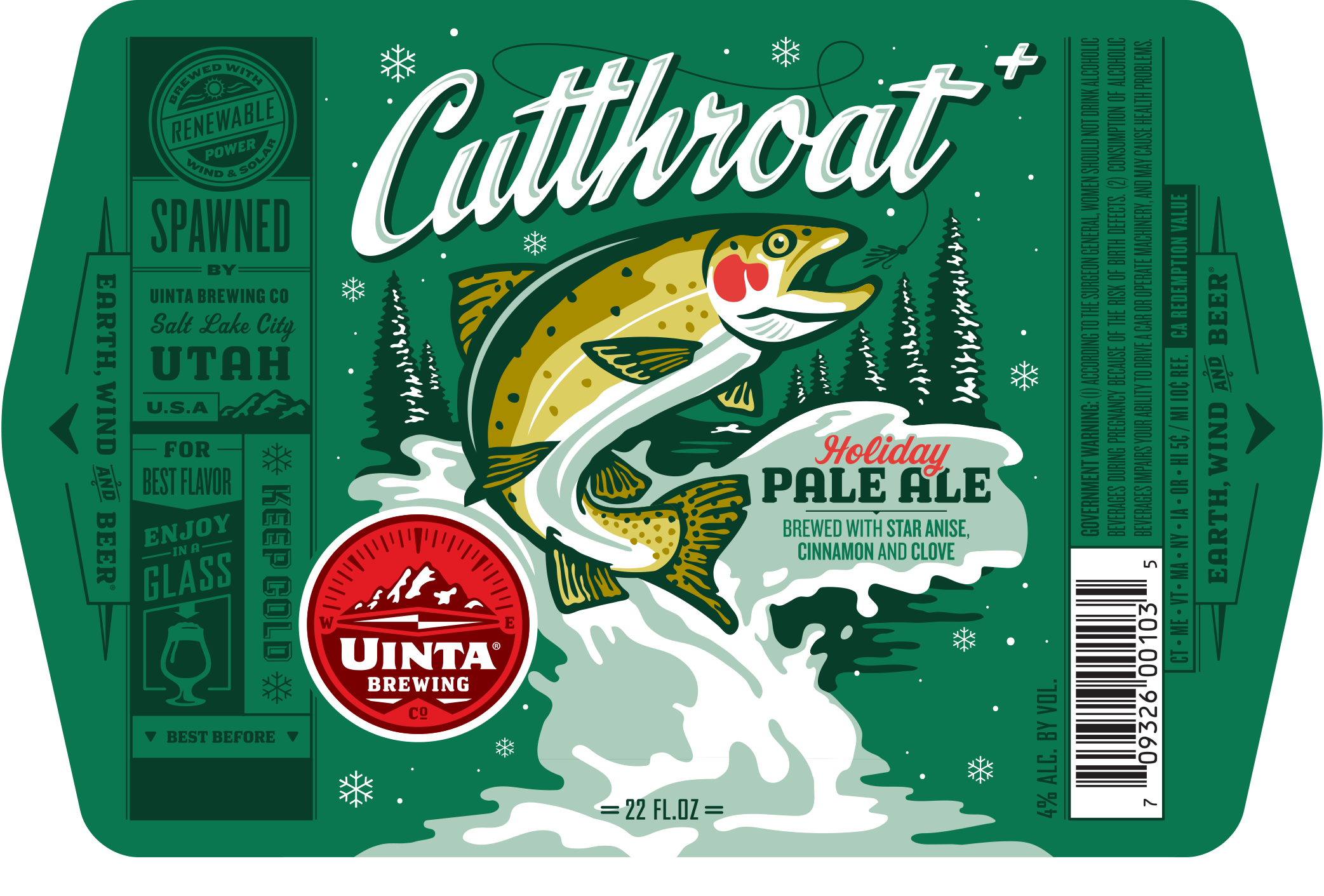 Uinta Brewing Company Releases Holiday Pale Ale and 22 Ounce Bottles
Uinta Brewing Company releases a limited holiday rendition of their flagship Pale Ale, Cutthroat.
"Uinta Brewing Company has been brewing Cutthroat Pale Ale for over 22 years and it's grown into the top selling craft brand in the state of Utah," says newly appointed CEO, Steve Mills. "Messing with the recipe of a beer that has seen tremendous success is a bit scary and bit exciting at the same time. But this brewery thrives on innovation and creativity which is exactly what we are doing with our Holiday Cutthroat."
Using Cutthroat's original Pale Ale recipe, Holiday Cutthroat incorporates flavors and aromas of the season with added ingredients of Star Anise, Cinnamon and Clove. Just in time for this limited release, Uinta added a new package to their current bottle and can line-up, a 22oz bottle. Cutthroat and Cutthroat Holiday will be the first of Uinta's beers to be packaged in 22oz bottles, which will hit stores this week. Cutthroat Holiday will jump-start a new Cutthroat PLUS series but Uinta, which will feature a rotation of Cutthroat spin-offs.
"We wanted to release a rotating series in our home market that would embrace our roots and shine light on the creativity and brewing talent that exists here at Uinta" says Lindsay Berk, Uinta Chief Branding Officer, "the beloved Cutthroat embodies tradition and offers an interesting playing field for ingenuity in the brew house– the perfect combination for bringing innovation to our home market."
Though Cutthroat is here to stay the Holiday recipe will only be around while supplies last. Catch it while you can!
Contact Info
Company: Uinta Brewing Company
Contact: Lindsay Berk
Email: lberk@uintabrewing.com