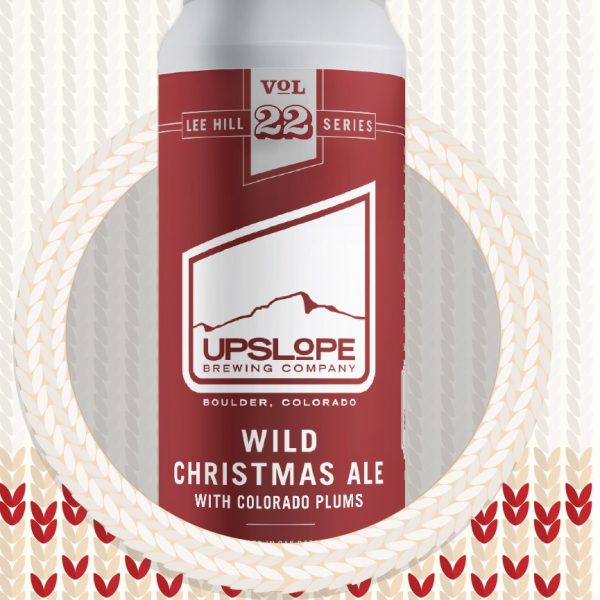 Upslope Announces Wild Christmas Ale with Colorado Plums Release
Time to get into the holiday spirit! Don your finest ugly sweater and join us for the release of our Lee Hill Series Volume 22- Wild Christmas Ale with Colorado Plums!
RELEASE // Thursday, December 5th (5-9 pm) at our Lee Hill tap room. Be the first to try this one on tap or snag a can for your cellar, or both! Also available tonight only- Wild Christmas Vertical Package!
19.2 ounce cans will be available for $10 per (limit of 6 per person). Price increases to $13 a can the following day, so stock up tonight!
$40 VERTICAL PACKAGE // We are busting a few cases from our Brewers' Cellar and offering a 4 pack of Wild Christmas with Cranberries (Volume 10), Wild Christmas with Black Raspberries (Volume 14), Wild Christmas with Balaton Cherries (Volume 18) and our new Wild Christmas with Colorado Plums (Volume 22)!
ABOUT THE BEER // 9.1% ABV 2019 Wild Christmas Ale matured in oak casks with our house sour culture for one year before being racked onto more than 1,000 pounds of Colorado-grown red plums to re-ferment for eight weeks. Aromas of mellow oak, orange peel, and baking spices are backed by deep, juicy plum flavor and a pleasantly tart finish. Special thanks to "Big Rig" Bo for transporting our freshly-picked fruit back to the brewery from the Western Slope.
FOOD TRUCK // Tibet's
LEE HILL SERIES // Named after our original North Boulder brewery, the Lee Hill Series is our tribute and continued commitment to experimenting and crafting small batches of beer for YOU, our awesome, craft beer-loving fans.
This quarterly, limited release series celebrates experimentation and creativity. Served up in 19.2 ounce cans, the Series offers new and innovative styles that are sure to be cellar keepsakes!
Contact Info
Company: Upslope Brewing Company
Contact: Laura Greaney
Email: events@upslopebrewing.com