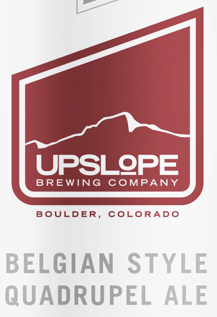 Upslope Releases Belgian Style Quadrupel Ale
Belgian Style Quadrupel Ale available Aug. 13
Boulder, Colo. (Aug. 7, 2015) – Upslope Brewing Company announces Volume 5 of its quarterly Lee Hill Series– Belgian Style Quadrupel Ale. Inspired by traditional monastic brewing, Upslope's brewers set out to create a hefty and intricate Quadrupel to celebrate the craftsmanship of Belgian brewing. Brewed with a select strain of Belgian yeast and traditional Belgian candi syrup, the 12.8% abv beer matured over six months to mellow and soften its character. With layered notes of flambéd bananas foster, black currants and hints of clove, this fine ale will continue to develop and transform over time.
"This fifth installment falls near the first anniversary of releasing our Lee Hill Series. We launched the Series with a Barrel Aged Brown Ale last summer as a tribute to our original Lee Hill tap room in North Boulder," said Upslope Head Brewer Sam Scruby. "The Lee Hill brewing facility is where we revel in and explore small batch experimentation and creativity. One year in to the Series, we couldn't be more pleased with the creations that have come out of this place. It's a great time to reinforce our commitment to experimenting and crafting small batch, innovative styles and carry on this quarterly tradition."
Release Party
To celebrate the release of Lee Hill Series Vol. 5, Upslope will host a party at its Lee Hill tap room from 5:00 p.m. to 9:00 p.m. on Thursday, Aug. 13, 2015. 19.2-ounce cans of the Belgian Style Quadrupel Ale will be available for purchase for $13 (limit four). Heirloom will be on site serving up food truck eats.
Contact Info
Company: Upslope Brewing Company
Contact: Tiffany Lutke
Email: tiffany@upslopebrewing.com