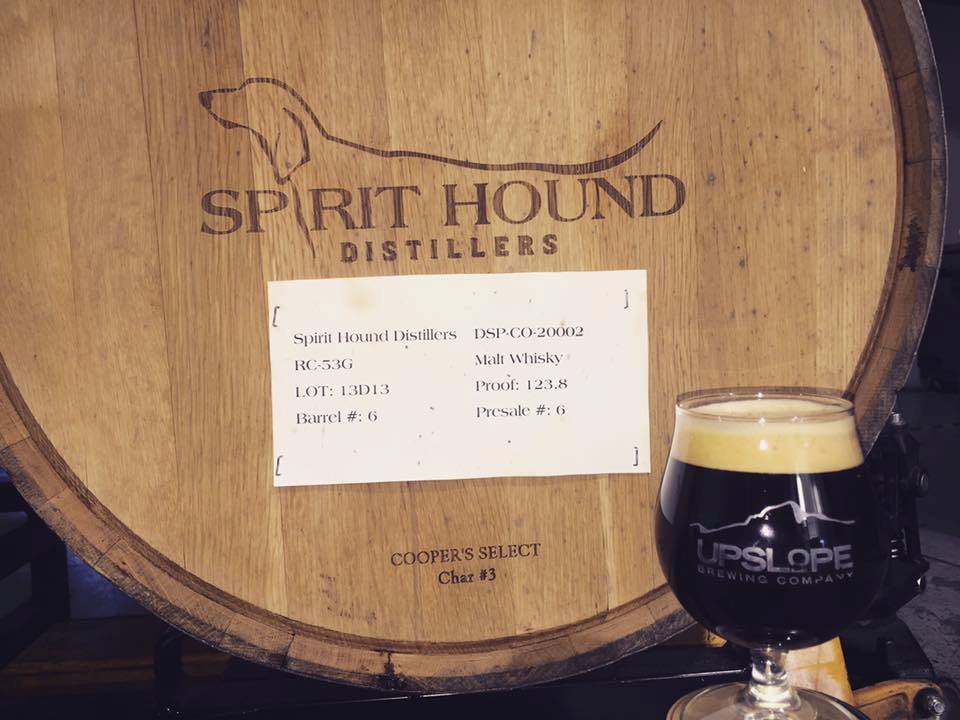 Upslope + Spirit Hound Whisky Barrel Aged Scotch Ale Tapping
Join us for a special tapping of our Whisky Barrel Aged Scotch Ale in collaboration with Spirit Hound Distillers!
↠ Thursday, April 13th at our Lee Hill brewery (5 pm) ↞
This year's collaboration is sweet, smokey and warm coming in at 10% ABV. This beer is a warm fire and comfy chair in a glass! Sweet malts and peaty smoke start the smooth flavor that finishes warm and slightly boozy. Pairs well with late nights and stormy weather. Brewed with Simpsons Peated Malt, and aged for approximately 4 months in Spirit Hound Whiskey Barrels.
Upslope brewer Charlie Condon collaborated with Engelhorn and fellow distiller Steve Williams on the beer recipe.
 A BEER WITH A STORY //
In August of 2015, Spirit Hound Distillery released, and quickly sold out of, the first bottles of its long-awaited Straight Malt Whisky. Those bottles came from five 53-gallon oak barrels that were filled prior to the historic September 2013 floods that did severe damage to Lyons, Boulder County and other parts of Colorado.
The distiller's wash that filled those barrels was brewed in August of 2013 by head Spirit Hound distiller Craig Englehorn at our Lee Hill brewery. We were able to offer our equipment while Spirit Hound was awaiting the arrival of their own brewhouse.
"I've known Upslope founder Matt Cutter for years," recalls Wayne Anderson, the distillery's Head of Sales. "So I asked him if we could brew on the Upslope system while we waited on our own. He and his team were eager to help and they let us come in on a series of Saturdays to brew. It was extremely gracious of them."
Englehorn brewed five batches of distillers wash at Upslope. He trucked the wash to Spirit Hound where it was fermented, distilled and then placed in oak barrels for aging to become the company's first Straight Malt Whisky. Two weeks later on September 12, 2013, the historic flood hit Lyons and shut down the distillery for six months.
In 2015, we filled those now-empty barrels with a special limited-run Upslope beer. "It's a Scottish-style ale of around 8% ABV," Englehorn says, "Made with a little peated malt. It's a lot like our wash and it was aged in barrels #5 and #6."
Contact Info
Company: Upslope Brewing Company
Contact: Laura Greaney
Email: Events@upslopebrewing.com