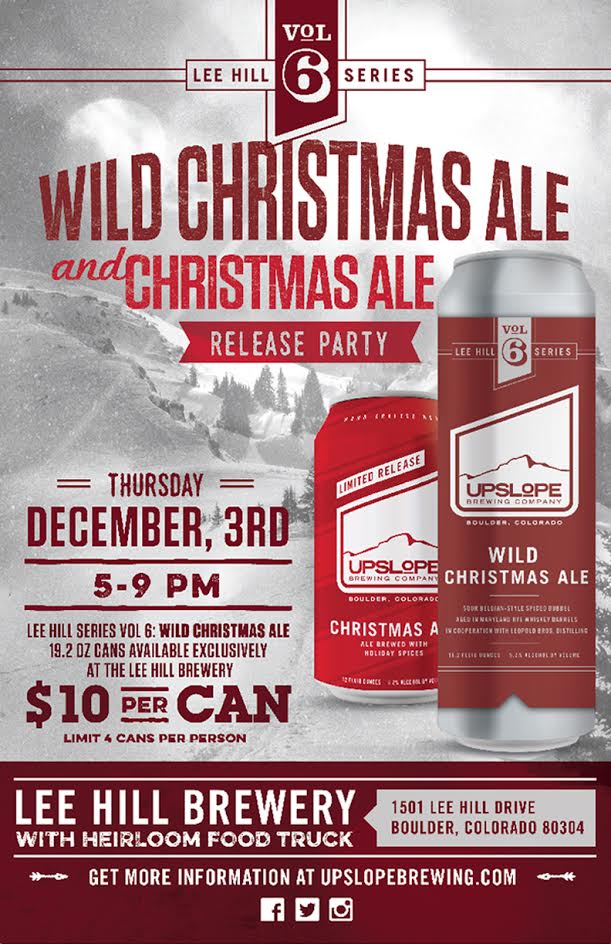 Upslope Wild Christmas Ale and Christmas Ale Release Party
The holidays are upon us – celebrate the most wonderful time of the year at our Wild Christmas Ale + Christmas Ale Release Party! We'll be cheers-ing the night away with our holiday Limited Release style and also welcoming another delicious installment to our Lee Hill Series – Volume 6, our Wild Christmas Ale. This new style drops next week at our Lee Hill Release Party!
RELEASE PARTY // Thursday, December 3rd (5-9 pm) at our Lee Hill tap room. Be the first to try this one on tap or snag a can for your holiday stocking!
Heirloom will be serving up food truck eats. Both styles will be available for to-go beer. 19.2 ounce cans of the Wild Christmas Ale will be available for $10 (limit four per person).
ABOUT THE BEERS // >> Lee Hill Series, Vol. 6, Wild Christmas Ale: Upslope has transformed their popular Christmas Ale into a wild version of the holiday classic. Aged for 10 months in Leopold Bros. Maryland-Style Rye Whiskey barrels and Brettanomyces sour culture, the sour Belgian-style spiced dubbel Wild Christmas Ale is a complex yet balanced blend of holiday spices, dark cherry caramel and whiskey-spiced oak. This mildly tart ale boasts a slight chocolate finish and notes of candied orange. At. 9.2% abv, Upslope's Wild Christmas Ale is sure to bring you warmth and cheer this holiday season.
>> Limited Release Christmas Ale: Holiday spices complement the dark fruit and spicy notes from Abbey Ale Yeast. The distinctive holiday aroma, ruby red color and rich malt flavor make this ale perfect for spreading Christmas cheer. 8.2% abv
LEE HILL SERIES // Named after our original North Boulder brewery, the Lee Hill Series is our tribute and continued commitment to experimenting and crafting small batches of beer for YOU, our awesome, beer loving fans.
This quarterly, limited release series celebrates experimentation and creativity. Served up in 19.2 ounce cans, the Series offers new and innovative styles that are sure to be cellar keepsakes!
Contact Info
Company: Upslope Brewing Company
Contact: Tiffany Lutke
Email: tiffany@upslopebrewing.com