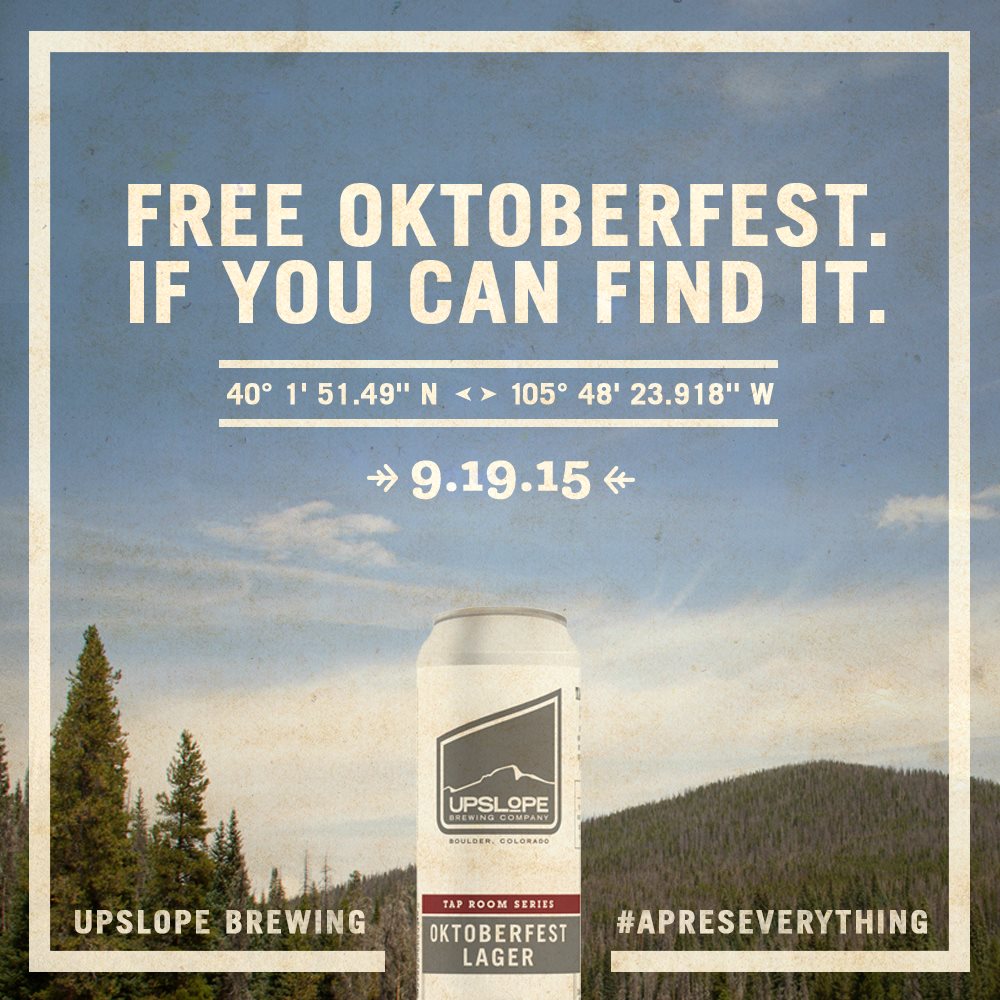 Upslope's First Backcountry Tap Room
Join Upslope Brewing Company in the wilderness for the FREE release party of our Oktoberfest Lager!
WHEN // Saturday, September 19th (11:00 am-6:00 pm)
WHERE // The High Lonesome Trail
WHAT // We're throwing our Oktoberfest release in the great outdoors at Upslope's first Backcountry Tap Room! We'll have some games and a grill, so feel free to bring your own grub to throw on the fire and also more games to add to the fun.
***Be sure to bring a valid ID*** (No overnight camping – event ends at 6 pm)
WHO // You! And all of your beer-loving family and friends (including your furry friends, just so long as dogs are on a leash)
Fall is here, and that means cozying up with a beer that's fit for the crisp, autumn air and spectacular alpine views you can only find in Colorado. That's why we're excited to announce the release of our limited edition Oktoberfest Lager from our Tap Room Series and invite you to taste this great beer for the first time in the great outdoors.
Yes, that's right – we're hosting an official tap room release featuring the world's first Backcountry Tap Room located at the end of the High Lonesome trail just outside Winter Park. All attendees (with valid ID) will get one complimentary 19.2 oz can of Oktoberfest Lager and up to 2 more cans of our 12 oz year round styles. But our free first taste won't exactly be a walk in the park. Actually, it'll be a walk in the woods. And once you hike the 2.3 miles to our tap room, you'll be treated to a beer that pairs perfectly with a fall day on the front range.
Happy trails!
About Upslope Brewing Company
Boulder-based Upslope Brewing Company is the creator of premium ales and lagers that are artfully crafted using natural ingredients. Packaged in aluminum cans for exceptional portability, and because it's best for the environment, Upslope complements the outdoor lifestyle and caters to the on-the-go beer enthusiast. The five flagship beers include: Pale Ale, India Pale Ale, Brown Ale, Craft Lager and Imperial India Pale Ale. Additional installments are offered in a Limited Release Series, the Lee Hill Series and the Tap Room Series. In an ongoing effort to protect Colorado watersheds, and the key ingredient in Upslope ales and lagers, one percent of Upslope Craft Lager can revenues benefit Trout Unlimited. Learn more about Upslope at www.upslopebrewing.com.
Contact Info
Company: Upslope Brewing Company
Contact: Tiffany Lutke
Email: tiffany@upslopebrewing.com