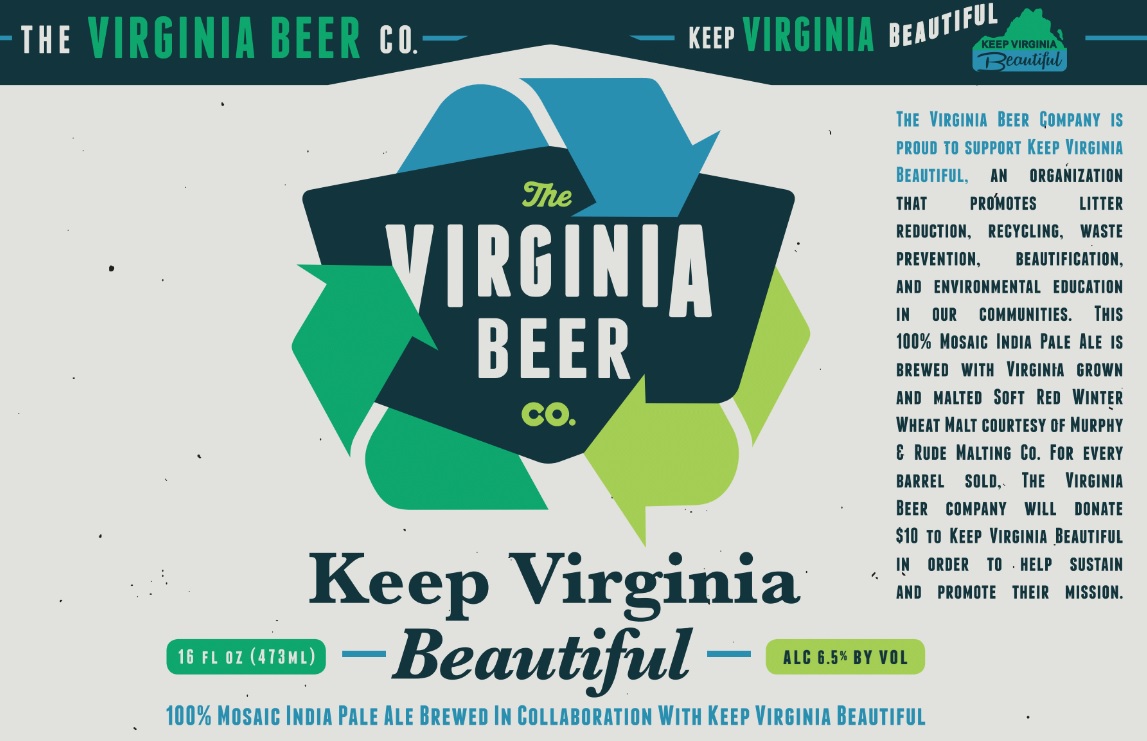 Virginia Beer Co. to partner with Keep Virginia Beautiful
The Virginia Beer Company is proud to once again team with Keep Virginia Beautiful – an organization that promotes litter reduction, recycling, waste prevention, beautification, and environmental education in our communities.
Join the brewery beginning on Saturday, March 30th as they get a head start on Earth Day celebrations with the release of "Keep Virginia Beautiful" – 100% Mosaic India Pale Ale brewed with Virginia grown Soft Red Winter Wheat Malt courtesy of Murphy & Rude Malting Co.
FOR EVERY BARREL SOLD, Virginia Beer Co. will donate $10 to Keep Virginia Beautiful, Inc. in order to help sustain and promote their mission.
About the KVB Release Weekend: – Limited Variant Release on Saturday at Noon. – KVB 4-packs of 16 oz. cans for the Wild. – Live tunes by Jon Smith Music on Sat. from 5-8 pm! – Saturday: Victuals from Carmen's Jamaican Authentic Cuisine. – Sunday: Bites by The Black Pearl.
About Keep Virginia Beautiful, Inc.: KVB is a diverse group of people dedicated to reducing litter and waste and educating all citizens to become better stewards of the environment. Our mission is to engage and unite Virginians to improve our natural and scenic environment. Our goals include becoming the leading statewide voice, providing a framework for improved communication and collaboration, cultivating and supporting sustainable programs, and engaging citizens by linking them to volunteer opportunities and information about 5 impact areas: Litter Prevention, Recycling, Waste Reduction, Beautification, and Education. https://keepvirginiabeautiful.org/
Contact Info
Company: The Virginia Beer Company
Contact: Robert Willey
Email: social@virginiabeerco.com