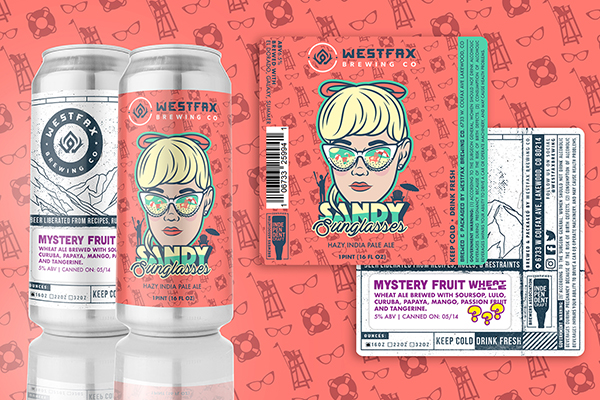 Westfax Brewing introduces Sandy Sunglasses Hazy IPA
Westfax Brewing will be introducing their latest Hazy IPA entitled as "Sandy Sunglasses" brewed to be the little sister beer to their "Foggy Goggles" Hazy IPA that they released last November! Sandy Sunglasses was brewed with the same hefty malt bill as Foggy Goggles containing toasted oats and wheat, but using a different hop variation containing El Dorado, Galaxy, and Summer. Sandy Sunglasses producing notes of peach, passion fruit, and candied orange with an ultra fluffy mouthfeel! Alongside this release will also be a small batch can release entitled "Mystery Fruit" an American Wheat Ale brewed with 7 different fruits: Soursop, Lulo, Curuba, Papaya, Mango, Passion Fruit, and Tangerine. 
Both beers are currently available for presale via their online store to purchase for pick up on Saturday, May 16th. Mystery Fruit Wheat will be limited to 90 cans limit 2 cans per person and will only be available online or in the taproom until sold out! Sandy Sunglasses will also be available for purchase online and in the taproom, as well as select liquor stores in the Lakewood, Denver, and Boulder areas!
Contact Info
Company: Westfax Brewing Company
Contact: Justin Graziano
Email: justin@westfaxbrewingcompany.com