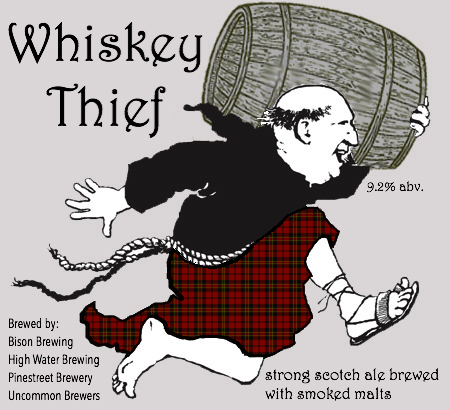 Whiskey Thief collaboration brew released for SF Beer Week
The band of gypsies is back together and groovier than ever!!! For the third year in a row, four Bay Area gypsy brewers have teamed up to brew a special collaboration beer for San Francisco Beer Week. This year's collaboration included Bison Brewing, High Water Brewing, Pine Street Brewery and Uncommon Brewers (the host brewery).
"Not-owning a physical brewery doesn't stop us [gypsy brewers] from being extremely passionate, innovative and community-minded," explains Dan Del Grande, owner and brewmaster at Bison Brewing. "Our mission with this collaboration is to promote and celebrate the often misunderstood world of gypsy brewing."
Inspired by their second favorite beverage–whiskey–the motley crew of (oddly enough) beardless brewers decided to brew a super boozy and viscously smokey Strong Scotch Ale. Aptly named the Whiskey Thief, the beer was brewed with a blend of specialty malts, beechwood and peat-smoked malts, housemade candy sugar and "dry-hopped" with heather.
Whiskey Thief fills the nose with soft hints of smoke, toffee, roasted nuts and dried flowers. Once you get a sip, KAPOW!!! Rich flavors of caramel and toffee bombard the tongue––slowly breaking away to reveal a deep layer of smokey, peaty goodness. If whiskey and beer had a baby, this would be it.
Whiskey Thief will make its official grand debut at the Bison Brewing booth during the SF Beer Week Opening Gala. It will also be featured on tap during various beer weeks events all throughout the Bay Area.
For all sales and media inquiries, contact ashley@bisonbrew.com
Contact Info
Company: Bison Brewing
Contact: Ashley V Routson
Email: ashley@bisonbrew.com