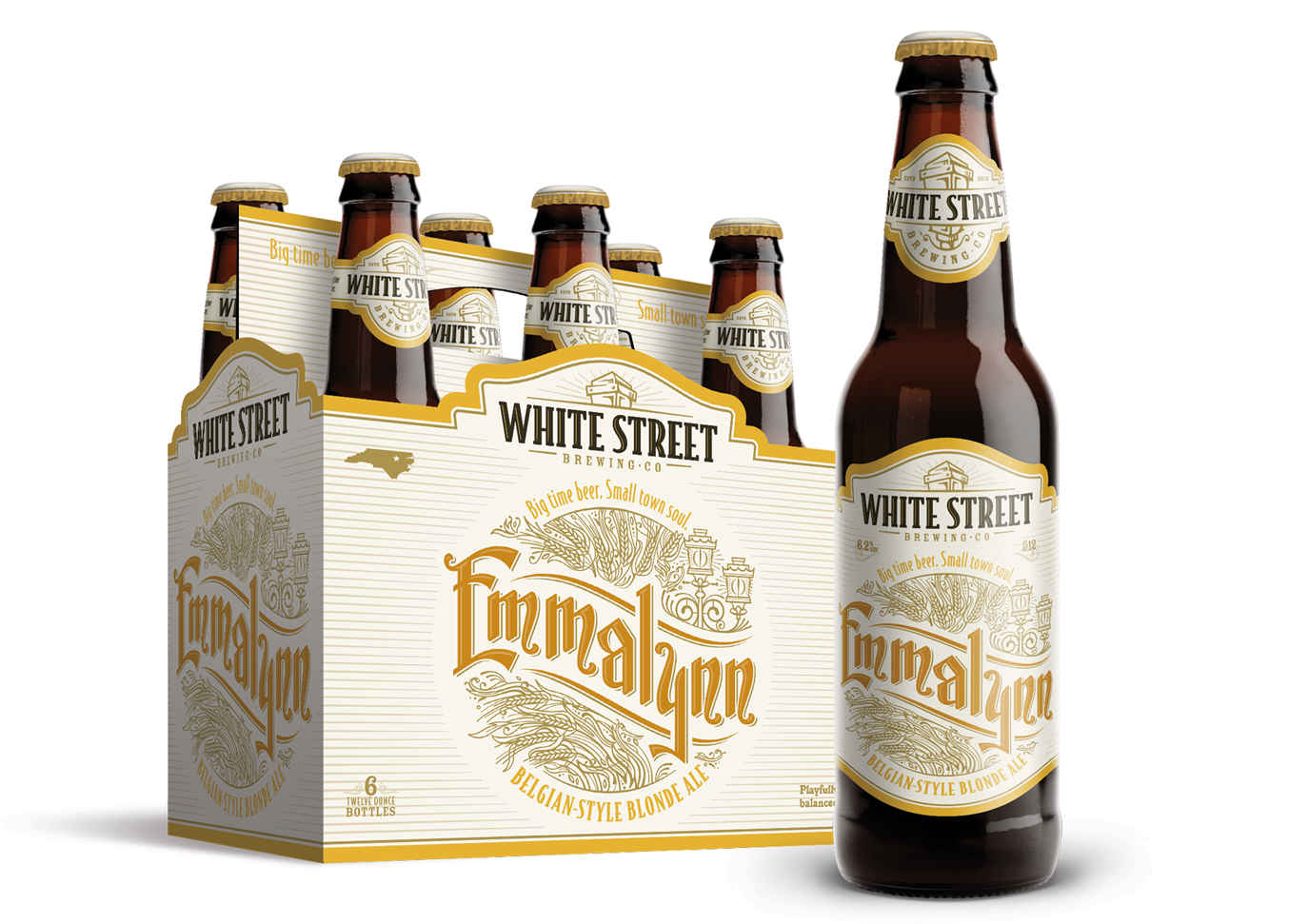 White Street Brewing Announces Release of Emmalynn
Wake Forest, NC-August 11, 2016—White Street Brewing Co. is excited to introduce Emmalynn to their year-round Main Street Series, which will be available on draught and in 12 oz. bottles.
Emmalynn is a Belgian-style Blonde Ale with bright citrus and apricot aromas highlighted by light Belgian malts, classic Belgian yeast, and subtle Noble hop profile. These delicious flavors are mainly derived from the distinctive fermentation process of the Belgian Trappist yeast.
This blonde first appeared in White Street's taproom as a limited release but the unrelenting demand required a different approach.
"We weren't looking to add a new beer to the line-up," said Dino Radosta, White Street's founder. "But the demand for this authentic and flavorful Belgian needed to be met. It's not an easy thing to maintain four separate yeast strains and keep up with the current demand in the market but it is absolutely the right way to do it. "
"Emmalynn fits perfectly into the Main Street series," said Ian VanGundy, Brewing Operations Manager. "Each of our flagships is a crowd-pleasing, approachable example of a classic style that showcases the different aspects of the beer world. Kölsch (winner of the 2014 World Beer Cup Gold Award) is our light, crisp, clean beer; the Scottish Ale highlights the sweetness of malt-forward beers; Hoptimist boasts the bright, tropical aromas found in West Coast hops. Emmalynn is unique because she possesses flavors and aromas that show off the yeast and fermentation practices."
White Street Brewing Co. is introducing Emmalynn to North Carolina through a series of locally-hosted events designed to match Emmalynn's playful and unique personality. Her state-wide release date is September 12th, the date of the brewery's fourth anniversary; however, you can get a sneak peek of Emmalynn at the Friday Night on White concert series on September 9th in Downtown Wake Forest, where White Street Brewing Co. was born. Learn more at www.whitestreetbrewing.com
Contact Info
Company: White Street Brewing Company
Contact: Will Haddock
Email: will@whitestreetbrewing.com