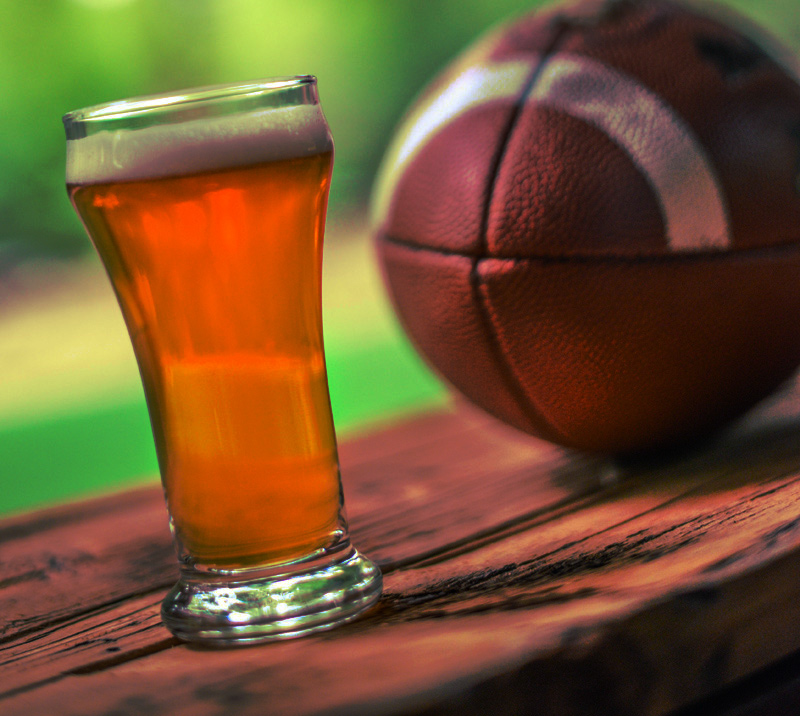 15 Craft Beer Obsessed College Football Towns
College football is here! Hopefully your Saturdays this fall will be spent inside stadiums screaming at the top of your lungs, manning the grill at a tailgate or glued to the couch cheering on your alma mater.
I'm taking a look at several college towns across the country that offer more than a couple of hidden craft beer gems for the thousands of visitors that arrive each weekend for game day. Regardless of whether or not these schools triumph on the gridiron, they're totally winners in the craft beer scheme of things.
University of Texas | Austin | Big 12
If we're talking football, it only seems right to start in the Lone Star State. While there are 70+ breweries in Texas to begin with, a concentration of them surround the city of Austin. (512) Brewing Company, Black Star Co-op, Draught House Pub and Brewery, Independence Brewing, Jester King Craft Brewing, Live Oak Brewing Co. and Circle Brewing Company are just a few breweries that Longhorn fans can enjoy while in Austin for a game.
North Carolina State | Raleigh | ACC
While UNC and Duke share Tobacco Road, NC State can proudly boast the highest concentration of craft breweries out of the three. The state as a whole is turning into a brewery haven, and the Wolfpack can attest to that. Near the campus you can find Big Boss Brewing Co., Boylan Bridge Brewpub, Crank Arm Brewing Co. and Gizmo Brew Works, which all provide great local beer to add to your tailgate spread.
Georgia Tech | Atlanta | ACC
Yellow Jacket fans know it gets a little hot during tailgating season, but luckily they can stop by Monday Night Brewing, Red Brick Brewing Co., SweetWater Brewing Co. and The Wrecking Bar Brewpub to cool off and grab a pint. They're going to need a beer before the last game of the season against the Georgia Bulldogs. This long-standing rivalry commonly known as "Good, Old-Fashioned Hate," has existed since 1893, with a record of 61 Georgia wins, 39 Georgia Tech wins and five ties.
Ohio State | Columbus | Big Ten
The first Big Ten team to make my list is Ohio State, who were ranked number two going into the 2013 season. Last year, Buckeye fans may have needed a beer or two as they watched their undefeated team become ineligible for any bowl games, but at least they had lots of craft beer options to choose from! Elevator Brewery and Draught House, Four Strings Brewing Company, North High Brewing and Zauber Brewing Co. all call Columbus home. Only time will tell, but this year they're one of the favorites to contend for the national championship.
University of Michigan | Ann Arbor | Big Ten
When you're talking football, you can't bring up the Buckeyes without mentioning the Wolverines, and luckily Ann Arbor stacks up in craft beer options too. Michigan fans have some amazing breweries near the stadium, including Arbor Brewing Co., Blue Tractor Brewing Co., Grizzly Peak Brewing Co., Griffin Claw Brewing Co., Wolverine State Brewing Co. and Jolly Pumpkin Artisan Ales. The Wolverines welcome the Buckeyes to The Big House (the largest stadium in the U.S. with 109,901 seats) the last weekend of November, so be prepared for a rowdy and cold tailgate that day.
University of Wisconsin | Madison | Big Ten
In addition to great craft beer, the Badgers also excel at football, proven by three straight Big Ten titles. So where can Badger fans go for some quality imbibing near Madison? I recommend stopping by Ale Asylum, Great Dane Pub and Brewing Co., Karben4 Brewing or Vintage Brewing Co. on your way to the game.
University of Minnesota | Minneapolis | Big Ten
Minnesota might not be a perennial powerhouse when it comes to Big Ten football, but when it comes to craft beer, the Gophers are near the top of my list. Dangerous Man Brewing Co., 612 Brew, Indeed Brewing Co., Minneapolis Town Hall Brewery, Steel Toe Brewing Co. and Town Hall Lanes are all great places for Gopher fans to congregate and get ready for some football (or hockey, where they're always in contention for a championship).
University of Alabama at Birmingham (UAB) | Birmingham | Conference USA
So what if the Blazers haven't had a winning record since 2004? What UAB lacks in football prowess they more than make up for in craft brewery talent. Avondale Brewing Co., Beer Engineers (awesome name) and Good People Brewing offer plenty of reasons for their fans to cheer. The Blazers might let sister school the University of Alabama handle the football domination, but Birmingham continues to reign supreme in the state's craft beer category.
Vanderbilt | Nashville | SEC
The SEC has dominated the football scene for the better part of a decade, but the Commodores haven't been a huge part of that success. No worries, they may not have much glory on the gridiron, but Nashville has such an immense amount of craft beer options. Blackstone Brewing Co., Bosco's Brewing Co., Fat Bottom Brewing, Jackalope Brewing Company and Yazoo Brewing Co. are just a few of the places one can fill their mug on game day.
University of Kentucky | Lexington | SEC
It's odd to find the state of Kentucky on top of a list that doesn't involve basketball or bourbon, but the Wildcat faithful can be proud that Lexington is a craft beer capital of the SEC. If you want to sit and watch the football game with your buddies, I highly suggest stopping by Alltech's Lexington Brewing & Distilling Co., Country Boy Brewing and West Sixth Brewing.
Drake University | Des Moines, Iowa | Pioneer League
In the heart of the country in Iowa's capital, you'll find a small university with an abundance of local breweries. The Drake football team hasn't had a season below .500 since 2002, which gives Bulldog fans more than a decade of cheering. If you're looking to watch the games at a local brewery and cheer alongside fellow fans, then check out 515 Brewing Co., Confluence Brewing Co., Court Avenue Brewing Co., Exile Brewing or Raccoon River Brewing Co.
University of Oregon | Eugene | Pac-12
The Pac-12 has great representation on my list, and it can easily be argued that it is the richest conference (craft beer-wise) in the country. What better way to start that argument than with the best team in the conference, the University of Oregon. The Ducks are an exciting and offensively explosive team that competes amongst the most elite in both college football and craft beer selection. Rogue Ales' Track Town location takes the spotlight, but breweries like Falling Sky Brewing, Hop Valley Brewing Co., Ninkasi Brewing Co., Oakshire Brewing and Steelhead Brewery all make Eugene a must-stop destination.
University of Washington | Seattle | Pac-12
The city of Seattle has long been known as the birthplace of grunge music and Starbucks, but those two can step aside as we pay homage to the surrounding craft breweries that help make Husky fans proud, including Big Time Brewery & Alehouse, Elysian Brewing Co., Hale's Ales Brewery and Pub, Maritime Pacific Brewing Co., Naked City Brewing, Pike Brewing Co. and Pyramid Alehouse.
University of Utah | Salt Lake City | Pac-12
One cannot argue with the numbers in favor of the Utes making my list. There are seven Brewers Association member craft breweries that call Salt Lake City home (and quite a few more in planning stages). So the next time you're in the City of the Saints, be sure to stop by Avenues Proper Restaurant & Publick House, Desert Edge Brewery, Epic Brewing Co., LLC, Red Rock Brewing, Salt Lake Brewing Co., Uinta Brewing Co. and Utah Brewers Cooperative.
University of Colorado | Boulder | Pac-12
Some Buff fans might argue that Boulder is a beer city that just happens to have a college football team. No one's surprised that the Buffaloes are on my list, as you can barely toss a football without hitting a world-class craft brewery. Avery Brewing Co., Asher Brewing Co., Boulder Beer Company, Mountain Sun Pub & Brewery, Twisted Pine Brewing Company and Upslope Brewing Company are just a few drops in Boulder's craft beer bucket. If there was a craft beer bowl game, I'm sure it would have to take place at Folsom Field.
Harvard | Cambridge, Massachusetts | Ivy League
It's bad enough Harvard grads are smarter than me and get the best jobs, but they get to talk about quantum theory and Chaucer vs. Shakespeare at breweries like Cambridge Brewing Company, Harpoon Brewery, John Harvard's Brew House, Pretty Things Beer & Ale Project and even have a Sam Adam's Boston Lager at Boston Beer Co. Adding salt to the wound, the Crimson football team hasn't had less than seven wins since the 2000 season! They're smart, good at football and have great beer—sometimes life just isn't fair. I'm going to the fridge and grabbing a craft beer right now.
Obviously there are many more towns and craft breweries that could have easily made this list, please feel free to add them in a comment below!