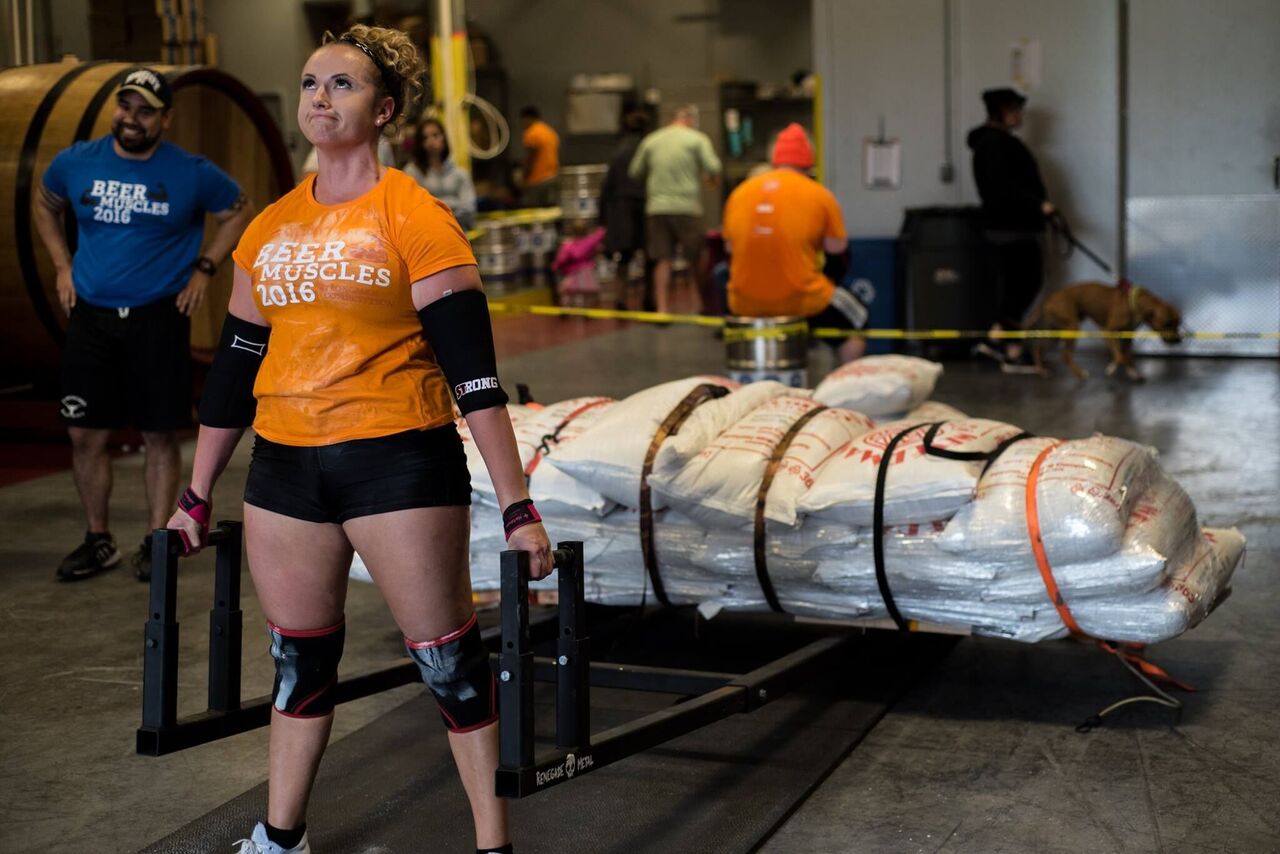 2SP Brewing Company Beer Muscles
2SP Brewing Company and Power Plant Gym are excited to present Beer Muscles, the only Strongman competition of its kind, on-site at 2SP Brewing Company in Aston, PA on Saturday, August 26th from 10am-4pm! 
38 strongmen and 34 strongwomen will be divided into four weight classes: Novice, Lightweight, Middleweight, and Heavyweight. Competitors will hail from West Virginia, Michigan, and all over the East Coast. The strongman and strongwomen will compete in a variety of beer-themed events, including Keg Carry & Press Medley, Harness Truck Pull (2SP delivery truck!), Basket Deadlift (filled with kegs) for reps, Malt Sack Carry, and Keg Over Bar for reps.
Not only is Beer Muscles the only event of its kind (a Strongman Competition at a brewery), it is also the largest Level 1 event in the region. The competition is sanctioned by Strongman Corporation and the winner of each division qualifies for Strongman Nationals in Las Vegas this November. 
"Power Plant Gym has herded brutes of all sizes into our brewery to lift and pull some heavy a** s***," said Michael Contreras, Director of Sales and Marketing for 2SP Brewing Company. "We can't think of a better spectacle to pound beers to."   
The event is FREE for spectators! The 2SP Tasting Room will be open for spectators (21+) all day, and for competitors (21+) who are finished lifting. 
Two food trucks, La Bella Luna, a family food truck serving up comfort foods, and Mom-Mom's Polish Food Cart, serving up authentic and creative Polish specialties, will be on-site to fuel the participants and spectators.
Additional sponsors include Fabletics, LiveSore, The Training Room with Jon Herting, Jes Made Bakery, and Kettlebell Kitchen. 
"We're stoked to work with another local business to create an exciting event that's unique to Delco and to our respective industries," said Katie Feeley, Owner of Power Plant Gym.
For more information about Beer Muscles, check out the Facebook event page here.
For more information about 2SP Brewing Company, follow them at Twitter: @2spbrewing | Instagram: @2spbrewing | Facebook/2spbrewing.
ABOUT 2SP BREWING COMPANY 
2SP Brewing Company's mission is to bring world-class beers from world-class brewers to the region. Founded by Michael "Stigz" Stiglitz who hand selected his 2SP team, dons a very specific mantra: Pretentious? Never. Passionate? Always. 2SP Brewing Company's Tasting Room is open Monday-Thursday 3pm-9pm, Friday 3pm-10pm, Saturday 12pm-10pm and Sunday 12pm-8pm. Brewery tours are available on Saturday's at 1pm and 2pm. The Tasting Room and Brewery are located at 120 Concord Rd, Units 101-103, Aston, PA 19014. For more information please visit: www.2spbrewing.com  
ABOUT POWER PLANT GYM
Strength training facility in Aston, PA specializing in Powerlifting, Strongman, Olympic-style Weightlifting, and CrossFit. Power Plant Gym fosters a community of like-minded individuals who are on a mission to become stronger and more knowledgeable, and to support each other along the way. Training is always hard, and you will always be challenged. But it should always be something you enjoy with people you enjoy. http://thepowerplantgym.com/ 
Contact Info
Company: PUNCH Media
Contact: Emily Marmion
Email: emilym@punchmedia.biz