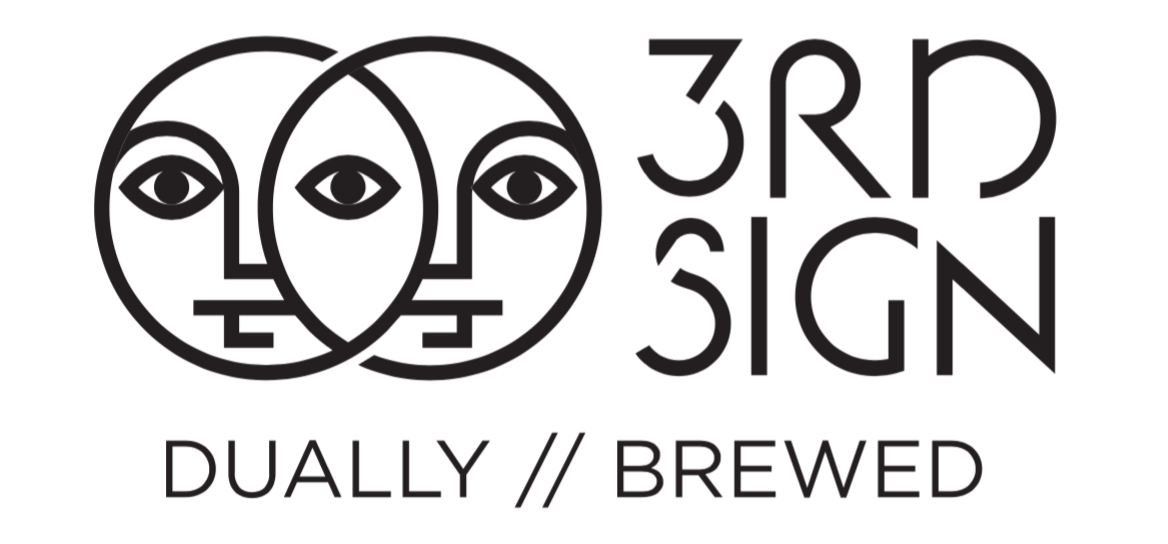 3rd Sign Brewery expands to the Greater Milwaukee Market
3rd Sign Brewery Expands to the Greater Milwaukee Market
Waunakee, WI – Jan. 25, 2016 – 3rd Sign Brewery is pleased to announce the launch of its beers to the Milwaukee and Kenosha/Racine markets. As one of the newest beer brands in Wisconsin, 3rd Sign Brewery will be available this week at select restaurants, bars, and retailers in Southeast Wisconsin, in both four-packs and draft. 3rd Sign partnered with Beer Capitol Distributing Co. for the greater Milwaukee market and CJW Inc. for downstate WI. 3rd Sign hopes to introduce more customers to the idea of Dually // Brewed, where it chooses one style of beer and showcases dual interpretations of that style.
"We're excited to offer Milwaukee's discerning craft beer drinkers a new & interesting take on classic beer styles via our concept of duality. We look forward to sharing our new craft beer concept with you. Cheers!" -Isaac Showaki, 3rd Sign Brewery founder.
3rd Sign Brewery was born from the idea that everything in life exists on a spectrum, and that interesting dualities emerge from many different facets. 3rd Sign's motto is "Dually // Brewed," and takes its name from Gemini, the third sign of the Zodiac. Showcasing the dual nature of this constellation through different interpretations of the same style of beer. For example, the core brands consist of six beers, in three sets of twins.
Available now:
Madagascar Vanilla Mild Ale & Sumatra Coffee Mild Ale – Our take on the English Dark Mild. Sumatra (4.5% ABV) features a cold pressed coffee sourced from the Lintong region of Sumatra and roasted for us exclusively by JBC Coffee Roasters offering hints of sweet tobacco and freshly roasted coffee beans. Madagascar (4.5% ABV) features a touch of Lactose sugar and Vanilla to give hints of graham cracker and rich cream without crossing over to sweet.
Forest IPA & Jungle IPA – Forest (7% ABV) is a classic American IPA featuring piney and resinous hops and a solid malt backbone. On the other side spectrum lies Jungle (6.5% ABV), bursting with citrus and tropical aromatics while remaining clean and dry.
And coming soon in February 2016:
Castor Dry-Hopped Wheat Ale & Pollux Soursop Witbier – With Castor (4.5% ABV) we take a crisp American wheat beer and add boatloads of hops to blast you in the nose with notes of pineapple and bubblegum. Castor's twin, Pollux (4.5% ABV), is a Belgian-style witbier spiced with lime peel and Vietnamese coriander. We then add a tart and pulpy fruit called soursop, which adds a silky, sweet citrus note that will take you to another dimension.
For Valentine's Day in very limited quantities:
Beatrice Chocolate Cherry Porter and Abandon All Hope Coconut Spiced Porter – Our tribute to love and love lost. Beatrice (7% ABV) features classic flavors of dark sweet cherries and chocolate that combine to create a rich and decadent drinking experience, like amour in a glass. Abandon All Hope (7% ABV) is Cupid's missed arrow, a robust Porter brewed with toasted coconut and a touch of Pasilla pepper. The balanced flavors of sweetness & spice linger on the palate like the fading memory of love lost.
At 3rd Sign we are out to celebrate differences in flavor, aroma, appearance and mouthfeel.  We love the science and art of brewing, fascinated with the effects that even the subtlest differences in ingredients and brewing techniques can have on the final product. With our distinctive approach, our aim is to delight our customers with nuance and innovation. The 3rd Sign name embodies the creativity, complexity and curiosity of the craft beer movement. Each style of beer has many faces, and we invite you to explore them all with us, two at a time.
3rd Sign can be had right at the source at the Octopi Brewing taproom, located:
1131 Uniek Drive Waunakee, WI 53597 Taproom hours: Tue. – Fri.: 4:00 pm – 10:00 pm (Happy Hour 4:00 pm – 6:00 pm)
Sat.: 2:00 pm – 10:00 pm
Sun.: 12:00 pm – 7:00 pm
Closed Monday
About Beer Capitol Distributing Co.:
About Beer Capitol Distributing Co.: Beer Capitol Distributing is Wisconsin's largest beer distribution and wholesaling business headquartered in Sussex, Wis. The company sells and delivers quality malt beverage products to 4,000 responsible, licensed retailers in Milwaukee, Ozaukee, Washington and Waukesha counties. The company represents nearly 1,000 beer brands crafted by the finest brewers worldwide. Breweries and brands associated with Beer Capitol include MillerCoors' Miller Lite and Coors Light, Lakefront Brewery, Pabst Brewing Co., Three Floyds Brewing Co., and Heineken USA.
About CJW Inc.:
CJW Inc. is an established beer distributor since 1952, serving Kenosha, Racine and Walworth Counties. Its main office and warehouse is located in Racine. C.J.W., Inc. is part of the Madrigrano family of distributing companies that also include W.O.W Distributing and Beer Capitol Distributing Company together servicing Waukesha, Ozaukee, Washington and Dodge Kenosha, Racine and Walworth Counties selling: Miller, Coors, Pabst, Crown Imports, Heineken and a full complement of non-alcoholic beverages Media Contact: Adam Vavrick, Director of Sales & Marketing, adam@octopibrewing.com, 608-620-4705
Contact Info
Company: Octopi Brewing/3rd Sign Brewery
Contact: Adam Vavrick
Email: adam@octopibrewing.com