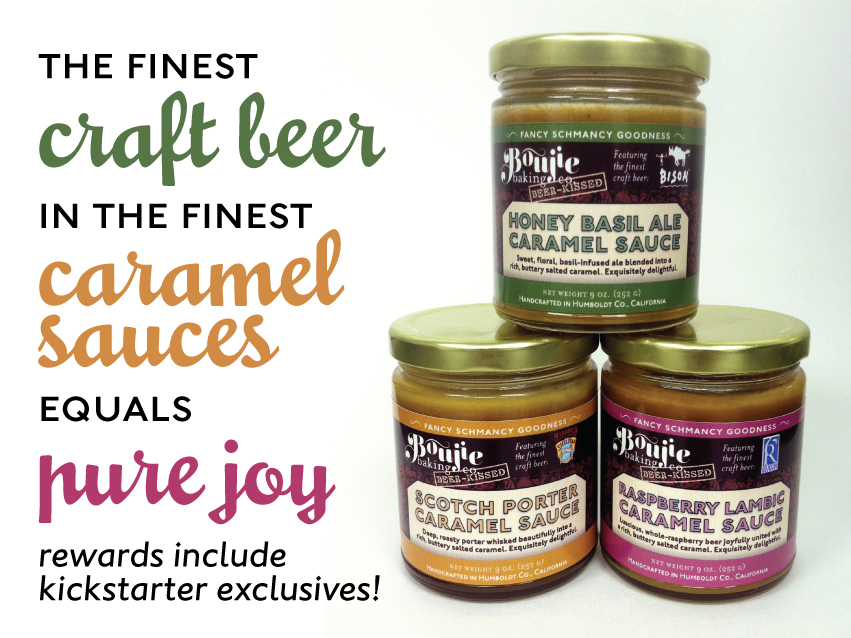 Beer-Kissed Desserts from One-Woman Bakery to Hit Shelves Soon
ARCATA, Calif. (February 24, 2014) — An avid baker and craft beer enthusiast, for Cassie Forrington, owner of Boujie Baking Co., combining her two vices and baking with beer was a no brainer, but the recent success of her wholesale company's "Beer-Kissed" desserts was more than she could have imagined.
"I started toying with the idea of incorporating craft beer into my baked goods about two years ago and it was there — in the middle of my kitchen, covered in flour — that Boujie Baking Co. was born," says Forrington. "I've always had a passion for baking, ever since I was a little girl, and I attribute my lifelong appreciation of craft beer to my first job, at North Coast Brewing Co. in Fort Bragg. I had to learn a lot about craft beer flavors before I could even drink it in order to explain beer styles to customers."
A Humboldt County native, Forrington and her "Beer-Kissed" desserts have found a niche in a saturated market, having already grown from one "Beer-Kissed" product in one brewery tasting room, to 12 "Beer-Kissed" products in over 30 stores in less than a year; but it doesn't stop there. This month, the bakery's line of beer-infused caramel sauces was accepted for sale by the Southern Pacific region of Whole Foods Market, a dream come true for the humble baker and her one-woman operation.
The line of caramel sauces include Scotch Porter Caramel Sauce, Raspberry Lambic Caramel Sauce, and Honey Basil Ale Caramel Sauce, made with beers from Mad River Brewing (Blue Lake, Calif.), Six Rivers Brewery (McKinleyville, Calif.), and Bison Brewing (Berkeley, Calif.), respectively. Her other "Beer Kissed" desserts feature beer from Lost Coast Brewery, Redwood Curtain Brewing, Lagunitas Brewing, and Deschutes Brewing, among others.
"It's extremely exciting," said Forrington. "It's also a bit intimidating—growing this much at once." Support from local businesses that have been through the process has been very helpful in navigating all the steps, as has Humboldt Made, an organization that works to promote Humboldt-produced goods and support local businesses. "The spirit of collaboration here among the business and craft beer community is very real."
The Whole Foods opportunity will more than double Boujie Bakery's account load, and introduce the products to three new states. Forrington said she will need quite a bit of funding, and additional staff to support this exhilarating growth, and has started a Kickstarter campaign — a crowdfunding website where project creators ask for "backers", or everyday people, to pledge to their projects — to support her fundraising efforts.
"I have a fairly high funding goal," said Forrington. "But I have to dream big. I believe in my community of people, and I know they believe in me."
Forrington has just 28 days to raise $25,000. If she doesn't reach her goal, she won't receive any of the funding per Kickstarter policy. Forrington ran a successful Kickstarter in 2011 to launch her business, raising over $3000.
For more information about Boujie Baking Co.'s Kickstarter campaign, visit: bit.ly/boujiegoesbig.
Contact Info
Company: Boujie Baking Co.
Contact: Cassie Forrington
Email: yum@boujiebakingco.com