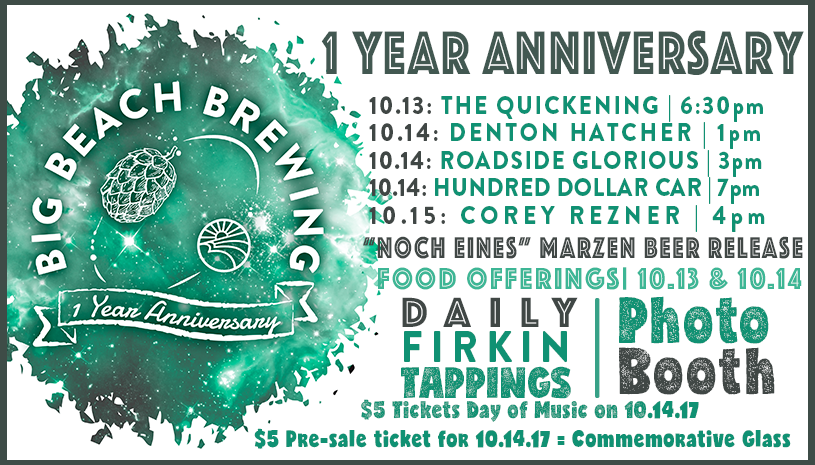 Big Beach Brewing Co. 1 Year Anniversary
Join us at Big Beach Brewing Company as we celebrate our first full trip around the sun. In October of 2016, the Alabama beaches didn't even have a microbrewery, and here we are, a year later with more than just beer under our belt.
We plan to celebrate in style and it wouldn't be complete without all of you! In addition to live music every day, we'll be setting up a cosmic themed photo booth so you can remember this raucous occasion, we'll be releasing our Noch Eines Marzen Lager, we'll have food trucks so the hunger pangs won't interfere with your beer drinking, and we'll have commemorative t-shirts and glassware to boot!
Countdown begins!
All weekend events are free except for Saturday, October 14th.  Details below:
October 13, 2017
6:30 – 9:30 pm: music – The Quickening
4:00 – 10:00 pm: food – Wolf Bay Lodge
4:00 pm – Noch Eines Marzen Beer Release
6:00 pm – Oak Aged Small Town Brown Firkin Tapping
7:00 pm – Ryan's Red Rye IPA Firkin Tapping
5:00 – 9:00 pm – Cosmic Photo Booth
October 14, 2017
Pre-Sale Tickets – Pre-sale ticket gets you *One* commemorative glass. Present your ticket at the door for a wristband that entitles you to re-entry all day long and a red ticket you can exchange for your glassware. Tickets will be sold same day, but you will not get a commemorative glass.
12:00 – 4:00 pm: food – Bluewater BBQ Catering
4:00 – 10:00 pm: food – Wolf Bay Lodge
1:00 – 3:00 pm: music – Denton Hatcher
3:00 pm – 6:00 pm: music – Roadside Glorious
7:00 – 10:00 pm: music – Hundred Dollar Car
5:00 – 9:00 pm – Cosmic Photo Booth
6:00 pm: Bourbon Barrel Aged Dixie's Heart Irish Red Firkin Tapping
October 15, 2017
4:00 – 7:00 pm: music – Corey Rezner
Contact Info
Company: Big Beach Brewing Company
Contact: Millie Shamburger
Email: millie@bigbeachbrewing.com