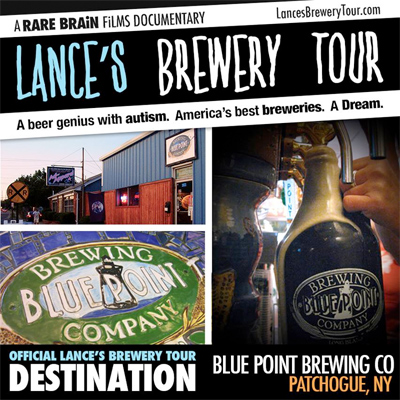 Blue Point Brewing Company Supports Autism With Happy Hour For Beer Expert With Autism.
Blue Point to donate $1 of every pint sold Friday to Lance's Brewery Tour.
Lance Rice is a gifted beer historian with a photographic memory. For nearly forty years Lance has used his computer-like mind to memorize a staggering amount of knowledge in beer and brewery history. In all this time Lance has never been able to share his passion with the world…Lance is autistic. Lance's Brewery Tour is a journey, a film and a book – and for Lance, it is a dream come true. Lance's dream is to travel to America's greatest breweries and write a book about the history and culture of American breweries.
Lance and the crew will visit more than 60 breweries across the country and Blue Point Brewing Company marks their only Long Island stop. Blue Point will donate $1 from every pint sold all day to Lance's Brewery Tour and host a fund raising event from 4- 7pm with raffles, donations and the opportunity to meet Lance himself.
Lance's Brewery Tour is being brought to life by support from breweries, the beer and autism communities and the public. Lance has received invitations from breweries in all 50 states as well as many international breweries and is the toast of the beer world. He has also been invited to speak to students with autism at the Temple Grandin School and meet many others touched by autism throughout his journey. From the heart of Ohio an unlikely hero has emerged and his message of hope is already inspiring the world.
"We're proud to be on the short list of New York breweries on the tour schedule and everyone here at the brewery is looking forward to sharing stories and a few pints with Lance and the crew," said Pete Cotter, Blue Point co-founder and president. "We've already had a tremendous amount of interest from folks who are looking forward to meeting Lance and being a part of the cause," he added.
Brought to you by Rare Brain Studios, a privately held film production and creative development company based in Los Angeles, CA. Visit their website for more documentary info.
For more information on Lance and the tour please visit LancesBreweryTour.com
Contact Info
Company: Blue Point Brewing Company
Contact: Curt Potter
Email: curt@bluepointbrewing.com