Scofflaw Brewing Company today announced a new partnership agreement with BrewDog, the internationally renowned craft brewer. The agreement will give Georgia-based Scofflaw access to the brewing and canning operation at BrewDog USA's new state-of-the-art U.S. headquarters near Columbus, Ohio.
Scofflaw will use exclusive access to the eco-friendly Ohio brewery to expand production of its canned beer for distribution in Georgia. The one-year agreement enables BrewDog to utilize excess brewing capacity while the company, which is celebrated for its punk branding and craft beer advocacy, builds its U.S. market.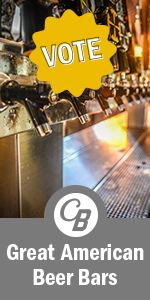 (READ: 3 Things You Should Never Say to a Craft Brewer)
The agreement was reached by James Watt, co-founder and CEO at BrewDog, and Matt Shirah, co-founder and president of Scofflaw, which recently announced an expansion that will increase capacity to 30,000 barrels annually at its Atlanta brewery. Scofflaw Brewmaster Travis Herman and Tim Hawn, the recently named COO for BrewDog USA, will coordinate the brewing.
"James and Tim have offered us a bridge," said Shirah, "one that will allow us to radically improve our canning capacity and capabilities. We can, no pun intended, continue to produce beer and simultaneously build out our third expansion.  We are also working to develop our own, more sophisticated Atlanta-based canning operation. Our current draft production facility and tasting room will stay in place and where it belongs, on Atlanta's Westside."
"Since opening earlier this year, our brewery in Ohio is now up and running and firing on all cylinders," said Watt. "When we started work on it back in 2015, we built it with expansion in mind, so it's awesome be able to use some of the excess capacity we currently have to help out Scofflaw. The beer scene in America is so inclusive and eclectic and it's been exciting to join the raft of amazing breweries out here. Our partnership with Scofflaw shows how supportive the scene can be, and we're excited to be able to sip some Scofflaw beers in our very own DogTap in Ohio!"
(READ: 7 Simple Ways to Give Craft Beer as a Gift)
The agreement will incorporate additional projects, including a collaboration beer and Scofflaw beers poured at the Columbus brewery's DogTap bar and restaurant. "The BrewDog and Scofflaw brands share an independent, brash attitude as well as a passion for brewing high quality, creative craft beers," said Shirah. "Given BrewDog's new state-of-the-art brewery here in America and our goals to increase production, this makes for a good relationship."
Shirah said the line-up of canned beers brewed in Ohio will include Basement IPA, Double Jeopardy and Hooligan as well as other newly canned beers once test brewing has been completed.
###
About BrewDog USA
The company's new 100,000-square foot brewery in Canal Winchester, Ohio covers 42 acres and has a capacity of 85,000 barrels. It includes the DogTap bar and restaurant as well as The DogHouse, the world's first craft beer-themed hotel. Currently under construction, the hotel located next to a new sour beer facility will feature hot tubs filled with beer among other amenities. The brewery plans to build at least five BrewDog bars across the United States in the coming years.
About Scofflaw Brewing Co. 
Co-founded by Matt Shirah and Brewmaster Travis Herman, who developed beers on a one-barrel system in the basement of the home of Shirah's mother-in-law, Scofflaw opened in August of 2016. It has been named by BeerAdvocate, Paste Magazine, USA Today and Craft Beer & Brewing as one of the best new breweries in America. Follow Scofflaw on Facebook, Instagram and on Twitter @ScofflawBrewing.
Media Contact: Jonathan Ingram, jonathan@scofflawbeer.com