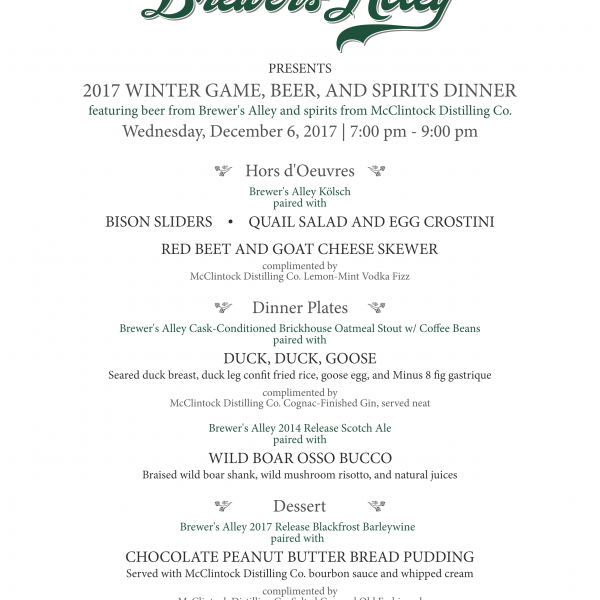 Brewer's Alley Announces 2017 Winter Game, Beer, and Spirits Dinner
Brewer's Alley, together with the team from McClintock Distilling Company in Frederick, Chef Joe Canlas and Brewmaster Tom Flores present a fantastic menu of delicious game, beer, and spirits pairings. This pre-holiday dinner is a great opportunity to celebrate craft beer and spirits with your friends and family!
Along with pairings of Brewer's Alley beer, each portion of the 2017 Winter Game, Beer, and Spirits Dinner features a cocktail or spirit pairing using locally-crafted liquors from our neighbors at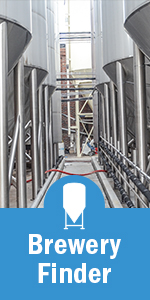 McClintock Distilling Company. The beers being paired include this year's release of Blackfrost Barleywine, a re-release of the 2014 Scotch Ale, and a custom cask of Brickhouse Oatmeal Stout with an addition of coffee beans. McClintock Distilling Company will be featuring a Lemon-Mint Vodka Fizz (made with their Epiphany Vodka), Cognac-Finished Gin served neat, and a Salted Caramel Old Fashioned (prepared with a first release of McClintock's Bourbon).
Call (301) 631-0089 today to reserve your seats. Tickets are $49 per person, plus tax and gratuity.
About
Brewer's Alley is proud to continue the long history of beer making in a town known for its deep appreciation of fine fermented spirits.
The name itself is taken from a page of history. Brewer's Alley was located on what is currently South Court Street. Beer Production ceased in 1901 when a large fire consumed the brewery of John Kuhn, who was the last in a long line of brewers to occupy space along the banks of Carroll Creek. For over 153 years, from the very beginning of Frederick County, Brewer's Alley was a fixture in the social and economic landscape of Frederick. Ninety-five years after leaving Frederick, Brewer's Alley is back!
ipa-pintBrewer's Alley's location at 124 North Market Street is steeped in Frederick history. The first residents of Frederick held a lottery to raise money to build a town hall and market house on this location in 1765, which was completed in 1769. This structure served its purpose for over 100 years and was witness to the birth of Frederick as a city. The Market House spanned the Civil War, including the ransoming of the city by Confederate General Jubal Early.
Contact Info
Company: Brewer's Alley
Contact: James
Email: promotions@brewers-alley.com