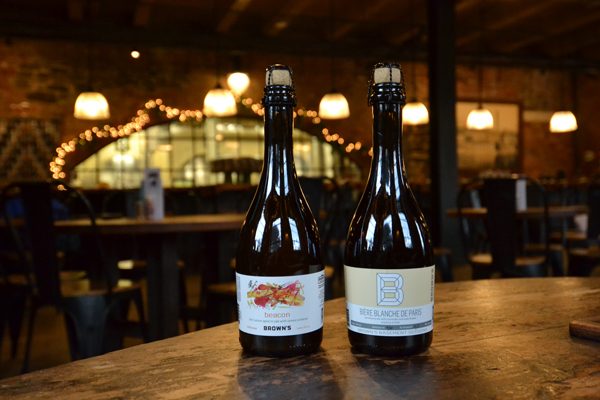 Brown's Brewing Wins Two Awards at the Great International Beer, Cider, Mead & Sake Competition
TROY AND NORTH HOOSICK, NY –  Brown's Brewing Company is thrilled to announce two first place awards in the 2019 Great International Beer, Cider, Mead, & Sake competition. Bière Blanche de Paris, a saison/farmhouse ale with coriander and elderflower, took top honors in the Belgian & French Ale — Blonde (<7.5% ABV & Specialty) category, while Beacon, a tart saison aged in oak with lemon verbena, won the Belgian & French Ale — Saison category. Both beers are available in 500mL cork and cage bottles while they last in Brown's Troy and Walloomsac taprooms.
"Since 1997, the Great International Beer, Cider, Mead & Sake Competition has received thousands of entries from drinks companies all over the world. Brown's Brewing is one of those companies, consistently brewing great, award-winning beers" said Gregg Glaser, Director of the Great International Beer, Cider, Mead & Sake Competition.
"We are honored to even be in the running against Saison Dupont, a beer from Belgian company Brasserie Dupont, and to then have our Beacon win the Belgian and French Ale Saison category is especially sweet," said Garry Brown, owner of Brown's Brewing.
Brown's yearly release of the mixed fermentation saison Beacon is the culmination of blending sessions featuring "young" (three to four month old) saison with older (typically six to 10 months) barrel aged wild ales. When combined, the final product exudes qualities of complex yet subtle wild yeast funk and acidity, matched in turn with the bright floral and spicy characteristics of saisons. Brewer Lee MacCrea notes "The addition of lemon verbena imparts a unifying element that makes for supreme drinkability."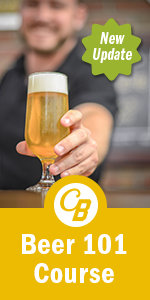 Biere Blanche de Paris draws on historical references to a now all but extinct beer style of the same name. In essence, a "Paris White" could be understood as the French cousin to the Belgian style witbier. Both utilize similar wheat-heavy grain bills and fruity, peppery yeast strains. Brewer Dan Cramer said "The Biere Blanche de Paris is notable in its use of elderflower petals in tandem with coriander, and for its superior strength (typically 6-7% ABV)." He continues "This fuller bodied ale has all the refreshing elements of a classic witbier, with a pronounced depth of complexity akin to a Belgian Tripel."
Brown's robust sour and barrel aged wild ale program produces packaged and kegged beers with bottles available at both taprooms and pints poured at select establishments in addition to both taprooms. Produced in small batches resulting in under 1,000 bottles per beer, this program allows for innovation and experimentation with each interesting batch.
Brewer MacCrea said of the creative process, "we craft our barrel aged blends with plenty of culinary inspiration in order to produce delicious beers you can easily pair with your favorite dishes in our taprooms or at home." Brewer Cramer added "our sour and wild ales can also be enjoyed on their own thanks to the incredible depth of flavors."
With award-winning beers, two separate brewhouses, a state of the art canning facility, two popular taprooms, a highly sought after private event space, and being hubs for memorable experiences, Brown's continual innovation has crafted a revolution of its own. Stop in at Brown's Troy Taproom and Brewery (417 River Street, Troy, NY) and Brown's Walloomsac Taproom and Brewery (50 Factory Hill Road, North Hoosick, NY). For more information, visit brownsbrewing.com.
Contact Info
Company: Brown's Brewing
Contact: Sarah Hoffman
Email: shoffman@brownbrewing.com