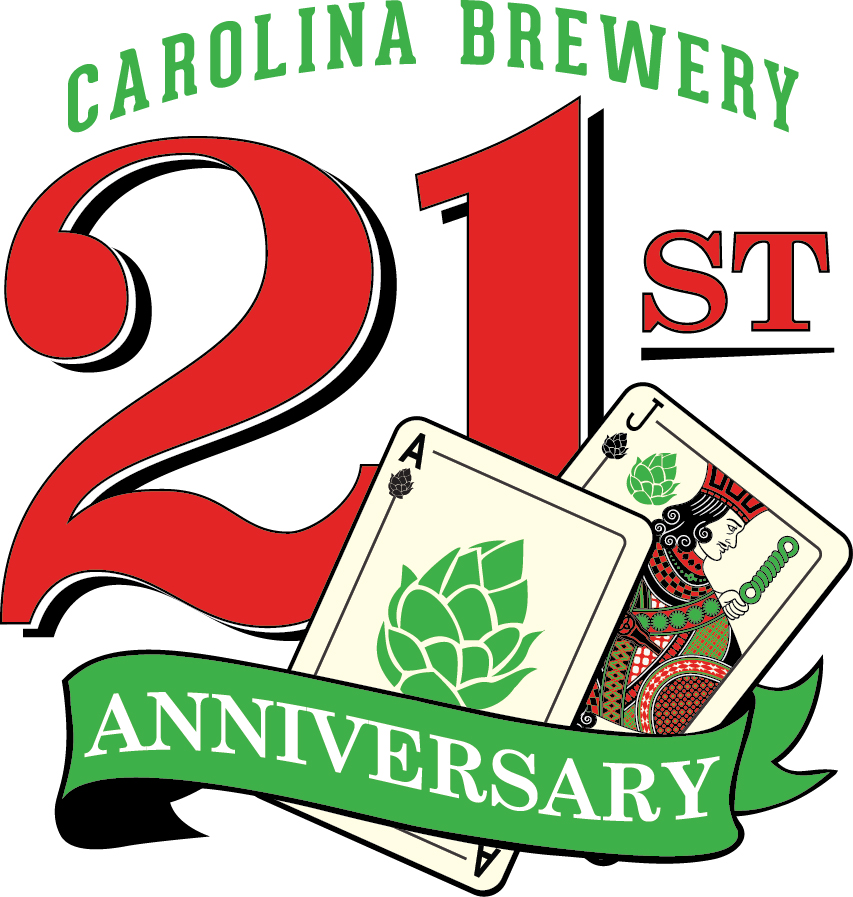 Carolina Brewery Celebrates its 21st Anniversary!
Premium craft brewery and Chapel Hill institution, Carolina Brewery, is celebrating 21 years in the microbrewery business this month. One of the few founding brewpubs of the Tar Heel State's now-booming beer culture will be tapping a limited edition Belgian witbier style "Anniversary Ale" on the brewery's official birthday, February 9, at both locations in Chapel Hill and Pittsboro. As part of the anniversary celebration, pub-goers will be able to enjoy $1 pints all day long, as well as savor the limited time ale for longer with takeaway growlers. On February 12, the brewpub will also be giving away limited edition Anniversary glasses to the first 500 beer customers at the flagship location in Chapel Hill.
Founded in 1995 as the first brewery in the triangle area and the fifth in North Carolina— now home to more than 120 breweries— Carolina Brewery has preserved its place in the industry as a pioneer brewpub and one of the most beloved craft beers in the Carolinas. Grown from founder Robert Poitras' personal passion for the craft beer industry, the brand has handcrafted a selection of time-tested, signature drafts, along with an ever-evolving menu of fresh, locally-sourced dishes.
"So much has changed in the craft beer industry since we opened 21 years ago, and our journey from then to now has been one of continual evolution for the brand," says Robert Poitras, Carolina Brewery founder and third generation Tar Heel. "In 2016, customers can look forward to a new Sunday Brunch in March, more produce sourced from right here in North Carolina, along with more seafood featured on our spring and summer menus. We'll also have a batch of new beers, including the debut of our Pamlico Pale Ale on tap and in 16 ounce cans this spring."
"When we started brewing at Carolina Brewery, our mission was to bring world-class beer to North Carolina," said Jon Connolly, director of brewing operations at Carolina Brewery. "Twenty one years later, our team is proud to continue this tradition while also getting creative with new, tasty brews like the upcoming Pamlico Pale Ale. Brewing is the perfect blend of art and science, and Chapel Hill is a prime location to showcase our craft."
Consistently pushing the needle with new brew recipes and refreshed menus, Carolina Brewery draws its quality and inspiration from a unique combination of more than two decades of industry experience, paired with a forward-thinking, modernized brew team. All the while, the brand's end goal remains the same: to brew the best local craft beer out there, using only the highest quality ingredients and techniques available. For more information on Carolina Brewery, please visit CarolinaBrewery.com.
About Carolina Brewery
Cofounded in 1995 by Robert Poitras, Carolina Brewery is a North Carolina institution with two brewpub locations in Chapel Hill and Pittsboro— each serving fresh, made-from-scratch entrees using local ingredients. The brewery is the fifth oldest in the state and a pioneer for craft brewing throughout the country. Carolina Brewery has received numerous accolades in the press and at respected beer festivals throughout the world, including the gold medal at the Great American Beer Festival, over a dozen medals at the World Beer Championships and many more. A graduate of the Siebel Institute of Technology and World Brewing Academy in Chicago, Jon Connolly has served as Carolina Brewery's brewmaster for more than 20 years. Carolina Brewery's beers are available at restaurants, bars and shops offering craft beer throughout the Carolinas and Tennessee. For a full list of Carolina Brewery's handcrafted beers— all of which are brewed in-house— please visit CarolinaBrewery.com.
Twitter: @CarolinaBrewery
Instagram: @CarolinaBrewery
Contact Info
Company: Waterhouse Public Relations
Contact: Caroline Christman
Email: cchristman@waterhousepr.com