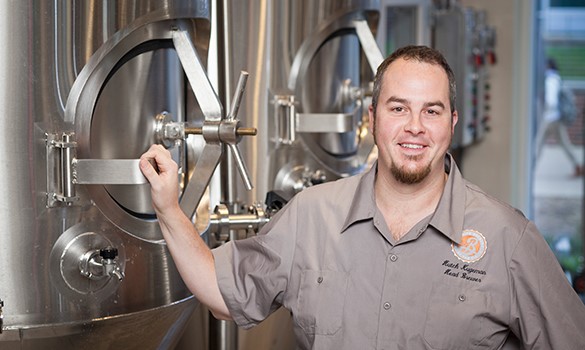 Celebrated Brewmaster Joins The Brewery at the CIA
Hyde Park, NY – Hutch Kugeman has been named opening head brewer for The Brewery at the CIA, a new educational facility at The Culinary Institute of America created in partnership with Brooklyn Brewery. Hutch was brought on board by the CIA and James Beard Award-winning Brooklyn Brewery Brewmaster Garrett Oliver. He will lead the production of four kinds of beer for the public restaurants and student dining facility on the college's New York campus, under the auspices of the hospitality management company Restaurant Associates.
The Brewery at the CIA is primarily a classroom where bachelor's-level students learn about the ingredients, equipment, and techniques required to produce ales and lagers in a course titled "The Art and Science of Brewing." The class, which launched this semester, helps future chefs think differently about beer, elevating its status as a fine beverage on a level with wine, and Hutch will work with the faculty to educate students about the intricacies of brewing. So while students at other colleges may be drinking beer, CIA students earn college credit for brewing, studying about, and, yes, tasting beer.
"It was hard to resist an opportunity to work with such highly respected organizations as the CIA and Brooklyn Brewery to produce innovative and exciting beers, while at the same time working with students," said Kugeman, who was a middle school teacher before beginning his career as a brewer. "This job brings together two things I'm passionate about: brewing and education."
Hutch's beers have won numerous awards, including at the Great American Beer Festival, World Beer Cup, North American Beer Awards, and TAP New York Festival. Before joining The Brewery at the CIA, Kugeman was founding brewer at Crossroads Brewing Company in Athens, NY, which won the Matthew Vassar Brewers' Cup for Best Craft Beer Brewery in the Hudson Valley and the inaugural John Calen Memorial Award for best Pale Ale in New York State.
About The Culinary Institute of America: Founded in 1946, The Culinary Institute of America is the world's premier culinary college. Dedicated to driving leadership development for the foodservice and hospitality industry, the independent, not-for-profit CIA offers associate degrees in culinary arts and baking and pastry arts; bachelor's degree majors in management, culinary science, and applied food studies; and executive education through its Food Business School. Its conferences and consulting services have made the CIA the think tank of the food industry in the areas of health & wellness, sustainability, world cuisines & cultures, and professional excellence & innovation. The college also offers certificate programs and courses for professionals and enthusiasts. Its worldwide network of 48,000 alumni includes leaders in every area of foodservice and hospitality. The CIA has campuses in New York, California, Texas, and Singapore.
For more information, visit www.ciachef.edu.