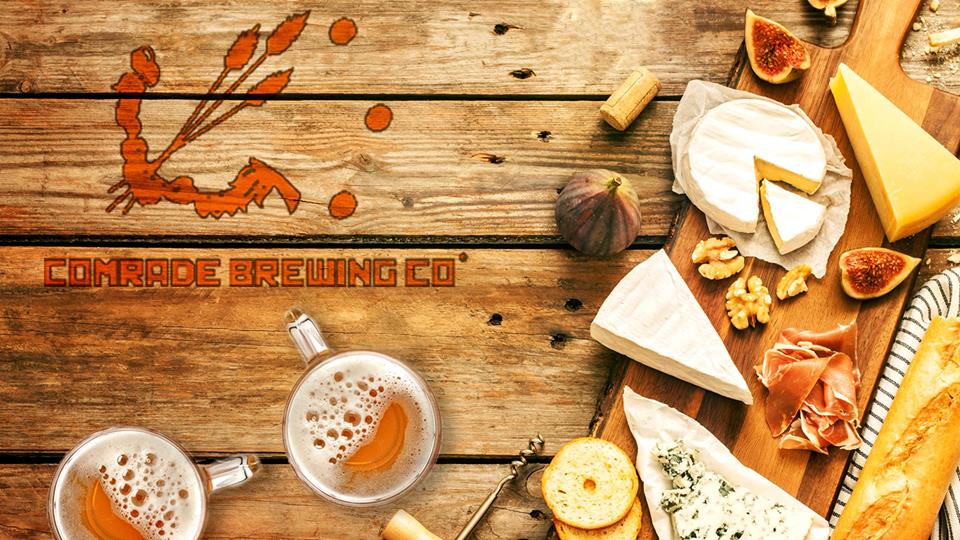 Beer and Cheese Tasting at Comrade Brewing
Join us at the Comrade Brewing Cheese Pairing Event. Cheese and Beer Pairing at Comrade Brewing in Denver. Six 4oz. beers and six cheeses. Professionally led by a Certified Cheese Professional from Whole Foods Tamarac and our award-winning brewers. Tickets sold here or at the brewery.
Yellow Card Citra Blonde Ale with Satori Pepper Parmesan REDCON Irish Red Ale with Kilaree Irish Cheddar Koffee Kream Extra Coffee Milk Stout with St. Nuage Triple-Cream Superpower IPA with Amish Blue Yellow Fever Jalapeno Citra Blonde Ale – Haystack Vaquero Jack from Longmont, CO The Specter Belgian-Style Wheat Ale with Vermont Creamery Herbed Goat Cheese
*Cheese list is subject to change
About Comrade Brewing
The centerpiece of our brewery is something you don't see often, a brewhouse and all other process vessels made in the USA. The 15 barrel brewhouse is from JV Northwest in Canby, Oregon. JV Northwest has been manufacturing tanks in the land of the free for over 30 years in Canby, Oregon. Although we looked at several manufacturers, JV Northwest was the only company that had the experience, technical expertise and met our "Made in the USA" requirement.
Contact Info
Company: Comrade Brewing Company
Contact: Nate
Email: taproom@comradebrewing.com