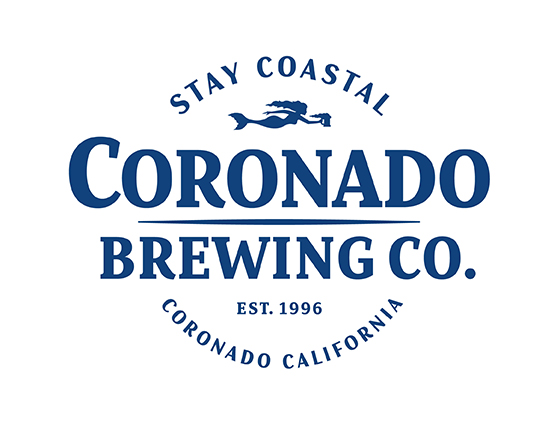 Coronado Launches Small-Batch Innovation Series: Stem to Stern
San Diego, CA – Coronado Brewing Company is sailing into unchartered waters with it's new innovation series, aptly named Stem to Stern. "Stem to Stern implies that nothing is off limits; we'll explore from front to back, beginning to end, and everything in between," says Ryan Brooks, Brewmaster, Coronado Brewing Company. "The concept of the series is to make limited, small-batch releases that allow us to experiment with new ingredients and have fun trying new recipes," says Brooks.
The first release in the quarterly series is Batch No. 1: Hoppy Red. Brewed with a blend of Denali and an experimental yet-to-be-named hop, this imperial red ale is bursting with tropical pineapple, apricot, and citrus notes. A complex malt bill of crystal, double roasted crystal, and Abbey malt, balances the assertive hoppiness for a bold but drinkable beer. "We really wanted to showcase some of the unique characteristics in the Denali and experimental hop we used," says Brooks. "The end result is a super hop-forward red ale that drinks like an imperial IPA but with more pronounced malt character."
Coronado will release a new batch of Stem to Stern each quarter, with limited quantities available in 22oz bottles and on draft, throughout the company's distribution footprint. Bottles and draft of Batch No. 1 are now available at the company's Tasting Room, and will begin hitting retail shelves beginning early next week. For more information about Stem to Stern Batch No. 1, please visit www.coronadobrewing.com/beers/stemtostern. Stay Coastal. Cheers.
Batch No. 1 Label Copy:
Stem to Stern—a small-batch series set to explore the full length of our brewing craft. This is where we test the waters with unique ingredients, new ideas, and spins on treasured classics. We love to innovate and experiment, so hop aboard and see where these small-batch beers take you.
————-
This exploration in experimental hops starts with a hefty dose of Denali, and yet-to-be-named #07277 hops, balanced by a firm malt backbone. We dry-hop with two pounds per barrel for an intensely aromatic blend of pineapple, apricot and citrus, and a lingering spicy finish.
Batch No. 1 Specs
7.7% ABV
60 IBU
Release: February 1, 2017
Packaging: 22oz bottles, draft
 About Coronado Brewing Company
In 1996, when craft beer was still a foreign term and San Diego County was home to only a handful of breweries, the Chapman brothers, Ron and Rick, opened a brewpub in their hometown of Coronado. Today Coronado Brewing stays true to its San Diego roots, brewing a diverse portfolio specializing in abundantly hoppy West Coast-style ales, available in 19 US states and 12 countries. In addition to the long-established pub in Coronado, the company operates a tasting room inside its San Diego production facility, and a tasting room and restaurant in Imperial Beach, California. Coronado Brewing Company is the proud recipient of one of the brewing industry's most prestigious awards—World Beer Cup Champion Brewery and Brewmaster for a Mid-Size Brewing Company, 2014.
Social Media
Contact Info
Contact: Danny
Email: dannyl@coronadobrewing.com