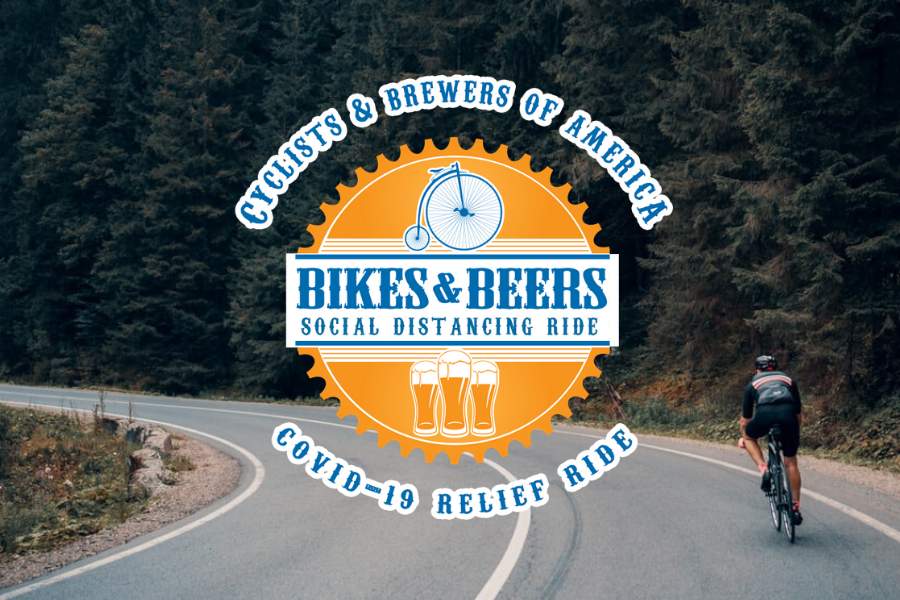 Cycling Event to Benefit Craft Breweries and Covid-19 Relief
In light of Covid-19, events all over the country have been forced to be postponed or cancelled. That includes everything from beer festivals to cycling events. 
Our Friends at Bikes & Beers work with both. Traditionally, they host large-scale cycling events at craft breweries around the country. Recently, they have decided to postpone a few of their early events for the safety of riders. In addition, breweries are temporarily closing their tastings rooms, which greatly affects business.
Bikes & Beers Founder, Sam Accardi, has come up with a way that people can still get outside and exercise on their bicycle, while benefitting the Craft Beer community as a whole.  (And donating to Covid-19 Relief Efforts!)
The Cycling Event that you can do Anywhere, Anytime, and support local craft breweries! They have already gotten 200+ breweries nationwide participating in this "virtual" cycling event! 
"We value how important exercise is in a time like this to continue your fitness goals, stay heathy, and just clear your mind for a few hours. Cyclists should remember to ride in small groups – less than 4 and preferably those you are living with. Also remember to maintain a 6-foot distance from one another for safe social distancing practices – no tight drafting!" says Accardi.
So How Does It Work?
Sign up through their website, start riding, log your miles, and get your Rider Appreciation Package (see below!) Show the entire country how awesome cyclists (and craft beer lovers) are!
SO WHAT'S A VIRTUAL RIDE ANYWAY?! — A ride you complete on your own, or with friends. It can be done out in the fresh air or on your indoor trainer, etc. Track your mileage weekly (via Strava, Garmin, RidewithGPS, etc.) to be entered to win prizes. (more info on their site) USE PROMO CODE FOR $5.00 OFF – CRAFTBEER
Three Main Benefits For You!
1. Solitary, socially distanced exercise inside or outside on your bike! 
2. Promote your local breweries and increase tap room sales once re-opened
3. Support COVID-19 Relief as well as local cycling charities & breweries!
The Rider Appreciation Package
Accardi states "Once registered, we will pack up your Ride Appreciation Box and ship it out to you so that you can start rocking your brand new swag on the open road!"
***Included in your Rider Appreciation Box (Shipped to you!):
-Limited Edition Social Distancing Ride T-Shirt
-B&B 24-ounce Cycling Water Bottle
-2 Beer Tokens to be redeemed at partner Breweries for 2 Beers! (valid when brewery tap rooms re-open)
-B&B Bottle Opener
-B&B Koozie
-B&B Stickers
-Packet of Liquid IV Hydration Multiplier Formula
-Packet of Chamois Butter (Cycling Anti-Chafe Cream)
-Pack of Hubs Peanuts
-Bag of Unique Craft Beer Pretzels
-1 Raffle ticket which enters you to win prizes in a FACEBOOK LIVE drawing!
Prizes Include:
–Hitch Bike Rack from Hollywood Racks
-And so much More!
IT'S A CELEBRATION OF CYCLING AND CRAFT BEER!
USE PROMO CODE FOR $5.00 OFF – CRAFTBEER
**If you are a brewery looking to participate, please email sam@bikesandbeers.com**
Contact Info
Company: Bikes & Beers
Contact: Bikes & Beers
Email: sam@bikesandbeers.com