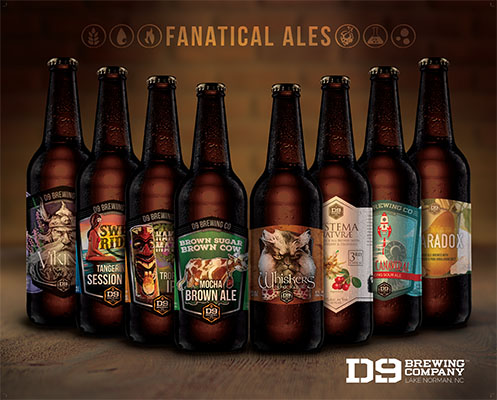 D9 Brewing To Expand Unique Wild Sour Distribution To Washington, D.C.
April 3rd, 2017
CORNELIUS, N.C. — D9 Brewing Company is pleased to announce that the innovative award-winning brewery is partnering with Washington, D.C.-based Pekko Beer to distribute its brands to the Capital City. The Cornelius, North Carolina brewery will be launching this market by hosting tap takeover events throughout the city.
"Washington, D.C. is a world-class beer market and we're honored and excited to add our unique perspective to the mix," said Andrew Durstewitz, D9 Brewing CEO & Co-Founder. "We've spent our first two years developing the science behind our wild fermentation sour program, and now we're happy to share the fruits of our labor with the Capital."
D.C. craft beer enthusiasts can expect to see a variety of mixed fermentation sours in bottles and draft. Including multiple editions from their rotational series' such as Systema Naturae, Defying Gravity and Wild Things. Consumers can also expect to see many of D9's year-round offerings.
"The Mid-Atlantic region has proven itself to be a hotbed for craft breweries in the past decade with DC at the heart of its consumer base. D9's lab program and their considerate use of local ingredients are elements of successful breweries that we rarely see at their age. We are incredibly happy to bring D9 and their program of Taming Wild Beasts into the DC area!" –Charles Nitze, Pekko Beer
D9 BREWING LAUNCH EVENTS Wednesday 4/26 Pizzeria Paradiso 6-9pm Thursday 4/27 Buffalo Billiards 5-8pm Thursday 4/27 Meridian Pint 5-8pm Friday 4/28 City Taphouse 6-9pm
For a complete list, visit here.
ABOUT D9 BREWING D9 Brewing Company, in Lake Norman, N.C., was started by two engineers and a doctor, with a mission to inspire and support community through the creation of exciting and original crafted ales. Since our inception in late 2014, we have invested in the scientific exploration of the natural world to produce the highest quality, and unquestionably original, crafted ales. With the launch of Taming Wild Beasts® in 2017, D9 Brewing is striving to become the leading producer of wild fermented beer in the southeastern United States. D9 Brewing was awarded a gold medal for its Systema Naturae 2nd Edition – Scuppernong & Lily wild sour ale at the 2016 Great American Beer Festival.
ABOUT PEKKO Pekko Beer Distribution is a craft beer distribution house serving Washington, DC since 2015. Proudly representing traditional and new age breweries alike, Pekko is known for maintaining product integrity through the supply chain and considerate placement at our growing list of bars, restaurants and retailers.
Contact Info Company: D9 Brewing Company Contact: Andrew Durstewitz E-mail: andrew@d9brewing.com
Contact Info Company: Pekko Distributing Company Contact: Charles Nitze E-mail: charles@pekkobeer.com
Contact Info
Company: D9 Brewing Company
Contact: Andrew Durstewitz
Email: andrew@d9brewing.com