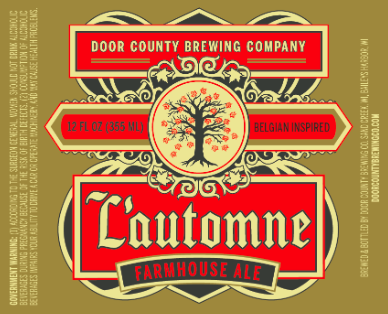 Door County Brewing Co. Releases L'automne
Baileys Harbor, WI (September 1, 2015) – Door County Brewing Company is thrilled to announce our new Farmhouse Ale, L'automne, is available today. It's no surprise we love a good farmhouse ale and we know our newest is sure to impress. Motivated by Bière de Garde, L'automne is a 7% ABV fall seasonal that will be available September through November in Wisconsin and Minnesota. A tribute to our Belgian roots, in many ways this beer has been 100 years in the making.
Over a century ago, the first Belgian settlers arrived in Southern Door County and quickly became the largest Belgian population in the nation. In our blood, our land and our beer, The Door County Brewing Farmhouse Ales pay homage to the history and the hops of our Belgian ancestors. A compliment to the pioneers of beer, every farmhouse ale resonates a seasonal sensation and familiar flavor of our Belgian roots.
With a malty backbone and brewed with our Belgian saison yeast, white and dark wheat, caramel malts and rye, our fall release, L'automne, has just the right amount of warm spice, bright citrus and a dry finish. A twist on a classic, we believe you should revere the past and enjoy the present.
For more information about L'automne and Door County Brewing Co. check out our Media Kit.
Contact Info
Company: Door County Brewing Co.
Contact: Emma
Email: press@doorcountybrewingco.com