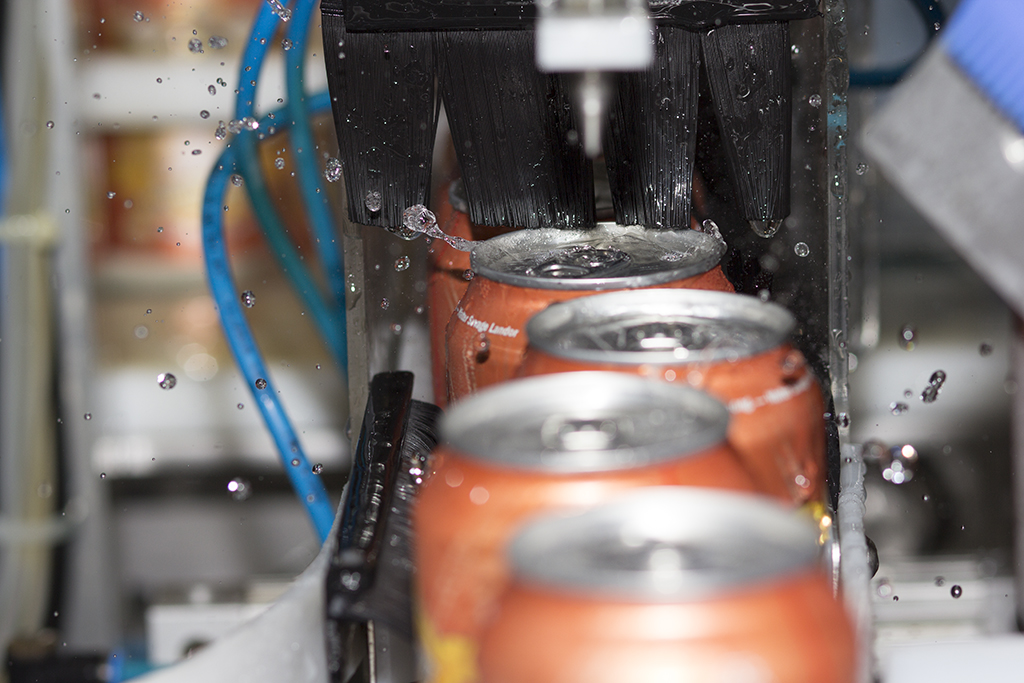 Dry Dock Brewing Company 2015 Year In Review
AURORA, CO—  In 2015, Dry Dock Brewing Company increased its production by almost 5,000 barrels, filled approximately 3 million cans of its Home Fleet beers, took home two medals from the Great American Beer Festival, and celebrated its 10th anniversary, among many other milestones.
Here is Dry Dock Brewing Company's 2015 Year In Review:
PRODUCTION NUMBERS
Dry Dock's South Dock facility brewed more than 1,300 barrels of beer in 2015, while the North Dock production facility brewed 18,000 barrels of Dry Dock and Steamworks Brewing beer (approximately 15,000 barrels of Dry Dock and 3,000 barrels of Steamworks beer). Surpassing the 15,000 barrel mark in 2014 qualified Dry Dock as a Regional Brewery, which according to the Brewers Association is a brewery with an annual beer production of between 15,000 and 6,000,000 barrels.
MORE MILESTONES
In 2015, North Dock, Dry Dock's production facility, canned approximately 3 million cans of its Home Fleet beers: Apricot Blonde, Amber Ale, Hop Abomination IPA, Wheat Beer, and Vanilla Porter.
In January 2015, Canoe Room at North Dock debuted its new Crowler™ machine for filling 32-ounce cans of fresh draft beer. Dry Dock was one of the first breweries to use this new machine created by Oskar Blues.
In March 2015, North Dock installed a new fermentor and a new bright tank.
In June 2015, Dry Dock brewed a Mandarina Pale Ale to commemorate The Brew Hut homebrew supply shop's 20th anniversary. Dry Dock was launched on a tiny brewing system in the back of The Brew Hut in 2005.
In September 2015, Dry Dock took home two Great American Beer Festival medals— a bronze for Pilsner in the German-Style Pilsener category, and another bronze for Apricot Blonde in the American-Style Fruit Beer category.
In the last quarter of 2015, Dry Dock debuted the 2015 Signature Series that included five returning whiskey barrel-aged beers— Imperial Stout, Double Vanilla Porter, Double Hazelnut Brown Ale, Double Coffee Porter, and Bligh's Barleywine— as well as one new beer, Cascara Imperial Stout with added coffee cherry skins.
In October 2015, Dry Dock celebrated its 10th anniversary with a party at North Dock featuring the brewery's rare and retired beers. To commemorate this milestone, Dry Dock brewed and bottled the 10th Anniversary Quad. This beer was brewed to age in the cellar, and it can still be found on Colorado liquor store shelves, and in the South Dock and North Dock tasting rooms.
In November 2015, Dry Dock hired its first Director of Sales & Marketing, George Allen. He came on board with more than a decade of experience in the craft beer industry.
ABOUT DRY DOCK BREWING CO.
Dry Dock Brewing Company was the first brewery in Aurora, Colorado that began as a small speakeasy-style bar next door to its sister business, The Brew Hut, at 15120 E. Hampden Avenue. To-date, it's one of Colorado's top producing breweries made possible by its second production and canning facility North Dock, the closest Colorado craft brewery to Denver International Airport.
Follow Dry Dock on Facebook at facebook.com/DryDockBrewing and on Instagram and Twitter @DryDockBrewing.
Contact Info
Company: Dry Dock Brewing Company
Contact: Emily Hutto
Email: hutto@drydockbrewing.com