Kalamazoo, MI— Fermenta, formerly known as a Michigan Women's Craft Collective has officially changed its name. Now it is "Fermenta: A Women's Craft Collective" thanks to the addition of a chapter in Wisconsin for 2019. The group will celebrate its fourth anniversary on Sunday, October 7, 2018 from 12-3 p.m. at the Kalamazoo Valley Community College's Culinary Arts Building where it will introduce the president of the new Wisconsin branch, as well as announce the addition of fermented foods to its list of supported industries for women in 2019.
The keynote speaker for the event is Sara Hagerty, Senior Global Projects Manager for Origin Malts. Hagerty has also worked for White Labs as Senior Midwest Territory Manager and is known throughout the craft brewing community for her understanding of raw materials, her attention to quality and a great passion for helping craft brewers optimize their supply chains.
There will be two workshops available to all ticket holders. Lucy Saunders, a cooking with beer cookbook author, clean water advocate, and future President of the Wisconsin branch of Fermenta, will lead a beer and cheese pairing tasting. The second workshop is a comparative tasting of beer and wine, led by Brian Hay, Master Sommelier and head of the Culinary Education program at Kalamazoo Valley Community College.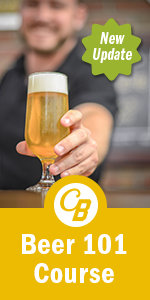 Every event attendee will receive a ticket for an opportunity to win one of several door prizes donated by breweries and brewing supply stores. Donations include free beer for a year from Old Nation, a home fermentation vessel from Adventures in Home Brewing, a Wisconsin gift basket from Lucy Saunders, off flavor tasting kit from Cicerone.org. Plus there will be plenty of brewery wear and other swag from Shorts, Jolly Pumpkin, Saugatuck, Bells, and several others to give away. There is also a trade expo during the event.
The $20 for members and $25 for non-members ticket includes tapas-style, beer-friendly appetizers made at the culinary school in addition to the above workshops and prizes. There will be a cash bar serving Michigan made beer, wine and cider. Membership is $30 for "Active members," which includes any woman connected in any way to a brewery, winery, distillery, or fermented foods business. This encompasses writers/bloggers or anyone who would like to take advantage of full membership benefits. There is also at $15 "Supporting Membership" level that is open to men or women and is a great way for students to stay abreast of Fermenta activities and events. Corporate memberships are $150 and include three Active memberships as well as promotion on social media, website, and newsletter platforms.
Tickets can be purchased at Eventbrite. They're also available on a walk-in basis at the event, Sunday, 10/7/18 12-3 p.m. at Kalamazoo Community College Culinary Arts Building, 418 W. Walnut St., Kalamazoo, Michigan. If you would like more information about joining Fermenta, please email fermenta.michigan@gmail.com. Information about scholarships available in September is at www.fermentamichigan.org.