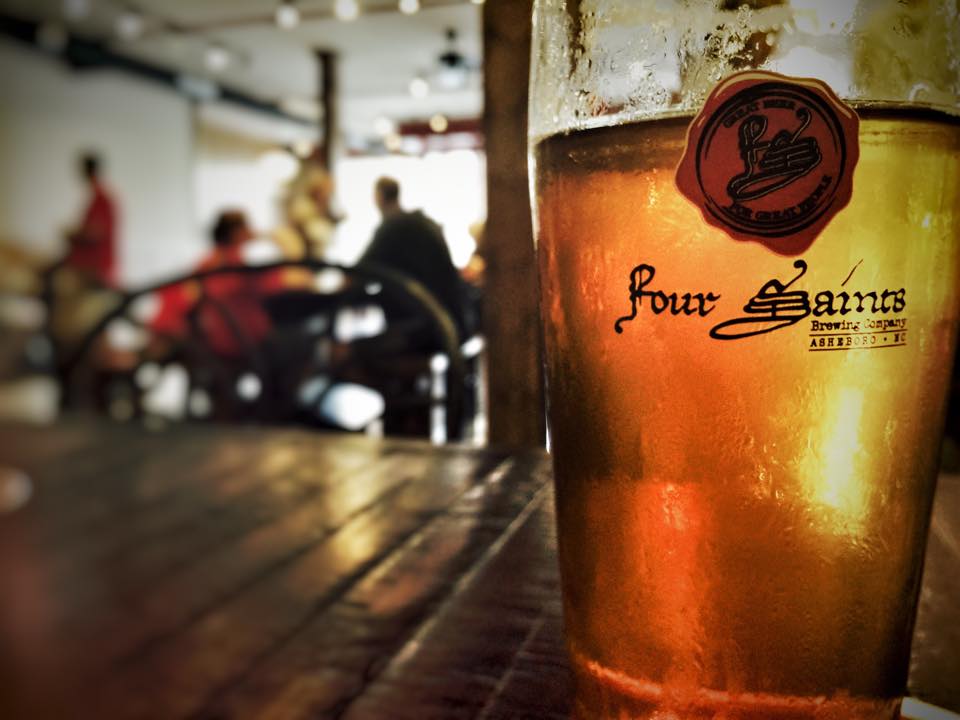 New North Carolina Brewery Opens
May 27, 2015 (Asheboro) Four Saints Brewing Company (FSBC) announces the opening of its doors to the general public in downtown Asheboro on May 8, 2015. Andrew Deming and Joel McClosky, who after home brewing decided to take their shared hobby to the next level, have achieved the long anticipated realization of their dream to establish Randolph County, NC's first microbrewery. Deming serves as COO and Head Brewer. McClosky is the company's CEO.
An Asheboro-Randolph Chamber of Commerce ribbon cutting ceremony held on May 27 celebrated successful soft and grand openings of the establishment, held on the weekends of May 8 and 15, respectively.
Before the idea became a bricks and mortar business, FSBC became the most successful Kickstarter campaign for a brewery on July 1, 2012, surpassing its goal of $45,000 by over $7,000 with the support of 263 backers. On December 5 of that same year, Four Saints Brewing Company announced the future location of its microbrewery as 218 South Fayetteville Street in downtown Asheboro. The day also marked the 79th anniversary of the end of prohibition — a fact the fledgling business owners used to promote their endeavors.
Taproom hours of operation are currently Wednesday and Thursday 4-10 p.m., Friday 3-11 p.m., Saturday 2-11 p.m. and Sunday 1-6 p.m. They are closed on Monday and Tuesday. When special events occur in Bicentennial Park, located directly behind the venue, they adjust their hours of operation to complement the event.
Draft selections for on premise pint sales as well as off-premise 32-oz. and 64-oz. growler sales are currently available in six styles. Included are Omie Blonde Ale, Hefeweizen, Potter's Clay Amber Ale, Bitter Brothers ESB, Genesis Belgian Dubbel and Stout One Stout. In addition, FSBC is currently brewing You Asked for It Session IPA, Soon-to-be-Named Double IPA and, in a special collaboration with Southern Pines Brewing Company, Southern Saints India Wheat Ale.
Patrons can also purchase prepackaged NC snacks, including Gone Jerky of Winston-Salem, Hops+Nuts of Greensboro, Chad's Carolina Corn of Archdale, Happy Mountain Foods Trail Mix out of Boone and fresh made hummus or pimento cheese from Bia's Gourmet Hardware of Asheboro. Bringing in food and having food delivered are also encouraged. Currently, FSBC has delivery menus from Bia's Gourmet Hardware, Time Square Pizzeria's downtown location and The Flying Pig. Additional delivery menus will be added in the near future. A variety of non-alcoholic canned and bottled beverages are also available for purchase.
"We want our guests to feel at home. We are striving for a neighborly, community atmosphere, which is why we've adopted a child and pet friendly policy. We want to see entire families, friends and neighbors gather here to laugh, celebrate and connect with each other," explains McClosky.
FSBC currently offers limited self-distribution within a 30 mile-radius of the brewery. Establishments that wish to carry FSBC selections are also welcome to pickup kegs from the brewery.
Four Saints Brewing Company is committed to small batch, hand crafted beers that resonate the beauty of local, regional and state communities. It intends to be one of the best craft beers in North Carolina. And, just like its patron saints of beer and brewing—St. Augustine, St. Luke, St. Nicholas and St. Wenceslas—it is fully committed to supporting the local communities to make the world a better place. Four Saints Brewing Company uses locally grown ingredients and locally made accessories to the fullest extent when possible.
For more information, visit www.foursaintsbrewing.com and www.facebook.com/FourSaintsBrewing.
Contact Info
Company: Four Saints Brewing Company, LLC
Contact: Joel McClosky
Email: joel@foursaintsbrewing.com